Vin Diesel Added His Vocals To Selena Gomez's New Track & We Don't Know What To Think
20 February 2017, 11:32 | Updated: 20 February 2017, 11:56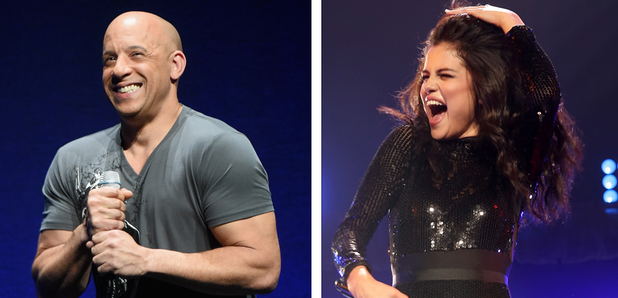 Check out the video and see what you make of this 'masterpiece'...
Whilst we know Vin Diesel for his muscular physique and his starring role in the Fast and Furious franchise, amongst other films, it turns out he's also a keen singer.
Not one to shy away from performing, Vin has previously showcased his vocal talents online, performing Rihanna's 'Stay' as well as Maroon 5's 'My Heart Is Open', but this time he's performed a duet.
Well when we say a duet, he's actually just added his vocals over the top of Selena Gomez's on 'It Ain't Me', her latest collaboration with Kygo. But Vin hasn't just sung a karaoke version, oh no - he's actually attempted to nail some serious harmonies!
He posted the video to his Facebook page recently which contained the audio of the track accompanied by slideshow of pictures that show him in the studio with Kygo and recording some vocals.
He even shared a pic on Instagram of himself with Kygo alongside the tongue-in-cheek caption, 'WOW!!!! The new Kygo mix is up on my Facebook page. I stepped out of my comfort zone for this one, haha. Let me know what you think. Thank you @kygomusic for producing this 2017 HIT! Thank you for believing in me enough to ask me to sing. Thank you @Selenagomez for bringing that beautiful and magical voice. Pained and celebratory simultaneously. I followed your lead when I went into the booth...'.
But we just don't know how we feel about it. We absolutely love the passion and Vin obviously has a love for singing, but we're not convinced he's going to be a chart topper any time soon.
Although there are plenty of fans who absolutely loved Vin's new vocal refix of 'It Ain't Me'...
@vindiesel Love it you a the best

— kleene (@MandyMk25) February 18, 2017
@vindiesel U rocked dude!!! U freakin sound fantastic!!! I love it and by the way, Thank u... now I cant stop listening to it, lol.

— Juliana Ruiz (@SqueakyDiesel01) February 18, 2017
@vindiesel you were made to sing and love

— aussiegal (@aussiegal17) February 19, 2017
So what do you think? Are you loving Vin's work or do you think he should stick to being an awesome actor?
You may also like...