Does This Photo Mean Selena Gomez And Orlando Bloom ARE Dating?!
22 October 2014, 11:34 | Updated: 22 October 2014, 16:25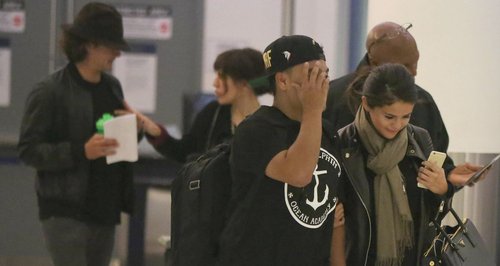 Selena Gomez and Orlando Bloom have been spotted at LAX airport together – what will Justin Bieber say?!
Uh-oh! Justin Bieber won't be a happy bunny! Selena Gomez has been spotted trying to sneak through LAX airport with Justin's arch enemy Orlando Bloom without being spotted!
Selena and Orlando maintained a distance of several feet between them as they both arrived at LAX, but an eagle-eyed snapper managed to get a shot of the pair. Guilty!
This is probably not going to go down to well with Biebs, who has been in an on and off relationship with Selena for years, but also had a punch up with Orlando in Ibiza in July.
Selena and Orlando have been romantically linked in the past, and Justin was also rumoured to have had a fling with Orlando's ex-wife Miranda Kerr. Awk.
The fight between Justin and Orlando came about after Justin was rumoured to have gone on a date with Miranda back in 2012 and recently posted a sexy snap of the model on Instagram before quickly deleting it.
We can't imagine this latest turn of events is going to help relations between Bieber and Bloom…. Ding, ding – round two?!
You May Also Like…