Rihanna Wins Legal Battle With Topshop Over T-Shirts Bearing Her Image
31 July 2013, 11:19
The high-street store will no longer be able to sell the items following the court ruling today.
Rihanna has today (31st July) won a legal battle with Topshop over t-shirts bearing her image.
The high-street store were selling items that featured a picture of the singer, taken from a video shoot back in 2011.
The Bajan star, who has her own fashion line with River Island, attempted to sue Topshop's parent company Arcadia for £3.3million after accusing them of passing of the clothes as approved by her.
Denying the claims, Topshop said the 25 year-old star was making an unjustifiable bid to establish a "free standing image right" over use of her picture in the UK.
Judge, Mr Justice Birss delivered a two-minute judgement in which he said there was "no such thing as a general right by a famous person to control the reproduction of their image".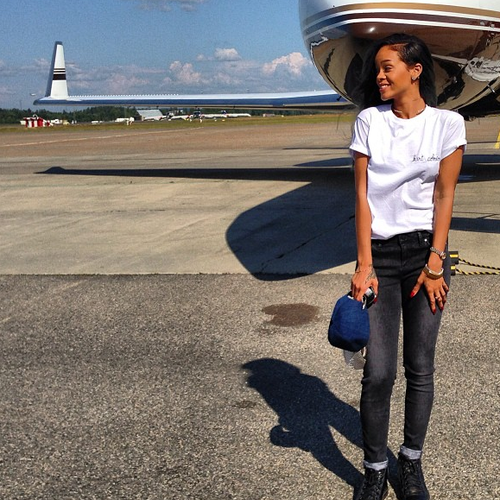 He continued: "The taking of the photograph is not suggested to have breached Rihanna's privacy. The mere sale by a trader of a T-shirt bearing an image of a famous person is not an act of passing off.
He concluded: "However, I find that Topshop's sale of this T-shirt was an act of passing off."
Meanwhile, Rihanna is currently on the road with her 'Diamonds' world tour and was seen breaking down on stage recently during a show in France.