So, Wait… Is Rihanna Playing The Super Bowl? Or The Grammys? Or... BOTH?! #CantDeal
18 January 2016, 13:48 | Updated: 18 January 2016, 14:55
Watch Rihanna's new teaser advert and decide for yourselves!
Oh Rihanna… you big TEASE! The Bajan superstar has sparked some seriously big rumours this past weekend after starring in a brand new trailer for both the Grammy Awards 2016 AND the US Super Bowl 50 next month.
Rihanna is seen striding out across an NFL football pitch in gold heels and a gold dress where she takes part in a coin toss to see which of the two HUGE music/sporting events will go first. When the Super Bowl wins the coin toss RiRi replies, "I'm worth the wait".
The #Navy are now going ABSOLUTELY cray cray wondering whether this is sneaky confirmation she'll be performing at the Grammy Awards, a tease about a potential guest spot during Coldplay's Super Bowl halftime show performance… or maybe even both!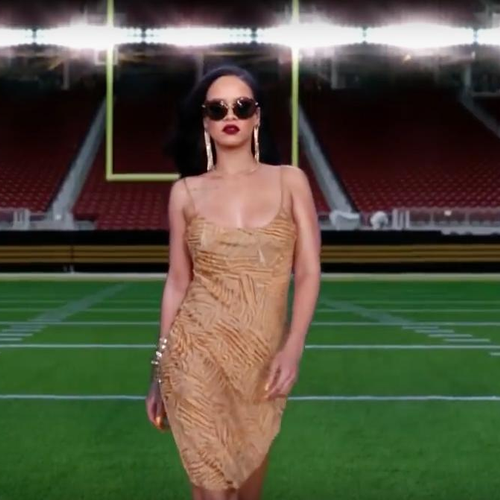 Coldplay are set to take to the stage on 7th February for their huge performance slot and it's already been confirmed that Beyonce will be joining them during the show. Considering they released 'Princess Of China' several years ago with Rihanna as featured vocalist it's not TOO far out of the realms of possibility that she could pop up.
The Grammy Awards are set to follow on 15th February and with Rihanna's 'ANTI' tour beginning in February, as well as rumours her new album will FINALLY arrive soon, this could be the perfect opportunity for her to showcase new tunes.
So watch this space #Navy. Could Rihanna play both the Grammys AND Super Bowl 50?!
You may also like...