LISTEN: Lewis Hamilton Explains What's REALLY Going On With Rumoured Girlfriend Rihanna
9 September 2015, 09:58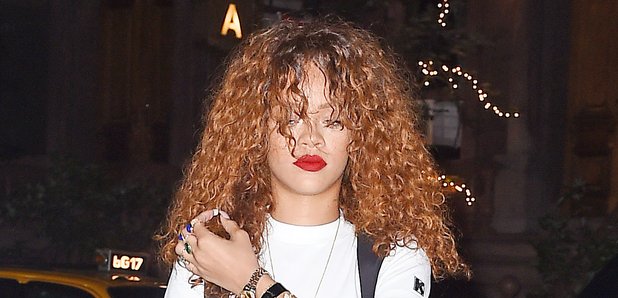 Lewis exclusively told Capital exactly what was really going on with him and the Bajan superstar…
Lewis Hamilton and Rihanna have faced heavy romance rumours for some time now… but Lewis Hamilton has revealed what's really going on between the pair exclusively to Capital.
The Formula One driver and 'American Oxygen' singer Rihanna first hit the headlines back in July and have been spotted out and about together several times over the summer, causing fans to speculate a romance could be blossoming between RiRi and Nicole Scherzinger's ex-beau.
Unfortunately for those shipping Rih and Lewis, Mr Hamilton has seemingly denied that he and the 'Diamonds' star are more than friends. Speaking to Max at the GQ Awards, Lewis said, "I guess it's just fun. I think people just want to make… I don't know where all these stories always come from. I've had a lot of 'girlfriends' of recent but none are really true."
As well as hanging out with Rihanna, Lewis has been making music of his own… so has his superstar rumoured lover heard any of it yet? "She's not heard my music. She asked me about it a while ago but I've not had the chance to play her it.
"For me it's a hobby, I'm doing it as a hobby. But I've been very fortunate working with some incredible talent, Angel I wrote my first couple of songs with and I've worked with some great people. I just love creating. I love going in and I always have stuff to talk about because I'm travelling and experiencing all these different things as we all do."
Prior to Lewis claiming he and Rih were just mates, the latest rumour was that Rihanna had apparently banned Lewis from speaking to his ex, Nicole Scherzinger.
An insider told InTouch magazine that RiRi wasn't too keen on Nicole and Lewis staying in contact. "Nicole was constantly texting Lewis and it annoyed Rihanna. So she told him that if he doesn't cut contact, it's over. Rihanna's worried that a spark may still linger. She wants to ensure she's the woman in Lewis' life."
But despite Rih's worries, her 'second mum' Sharon Bellamy is keen on the pair being a couple. She said, "They would have beautiful babies. As long as this man makes her happy, he's got my approval. You've got to love his British charm. I saw her at the carnival [in Barbados] and Lewis is so handsome."
Mr Hamilton also recently gave us at least a LITTLE cheeky hint about what's going on. "You know, I've known Ri for a long time," Lewis revealed to E! News during the MTV VMAs 2015. "We've been friends for a while. We get to hang out every now and again."
"[Rihanna] is taking it very slow and just having fun, but she likes who he is and what he is about," a source also told the publication.
The pair first hit the headlines two months ago, suggesting they've been talking a LOT over the past few months, and been trying to meet up where they can to continue their "flirtation".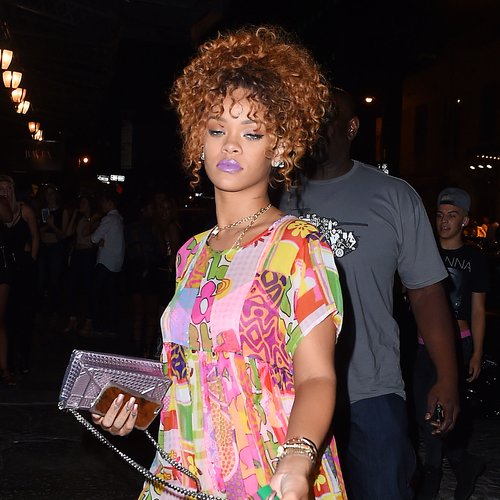 "They've had a flirtation for years and have always fancied each other, but since May this year they've been talking a lot," a source revealed to The Sun. "Finally their schedules allowed them to spend a weekend in the same part of the world and they made the most of it.
"They are both really busy but Rihanna has asked him to come to Rock In Rio in September so he can see her perform and spend time together," the source added. '[Lewis] is a bit infatuated with her and thinks she is not only sexy but incredibly funny, although he knows she has a reputation as a heartbreaker."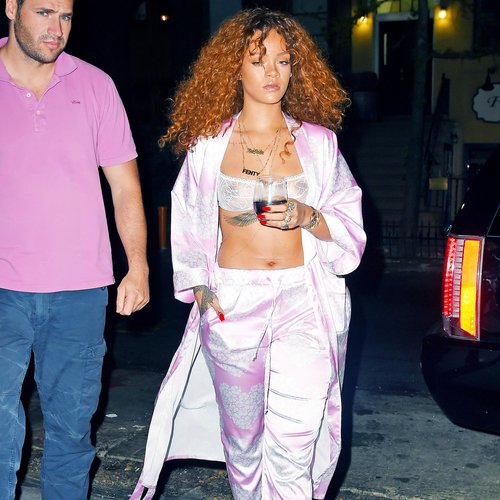 Picture: Splash
The two were pictured cuddling up together at the Kadooment Day carnival in Barbados and cosying up on a yacht trip on the Caribbean waters recently.
Rih and Lewis were then spotted together for the third time in two weeks as they were both at The Griffin nightclub in New York two weeks ago, where E! News reports they both arrived to the venue separately and in different cars.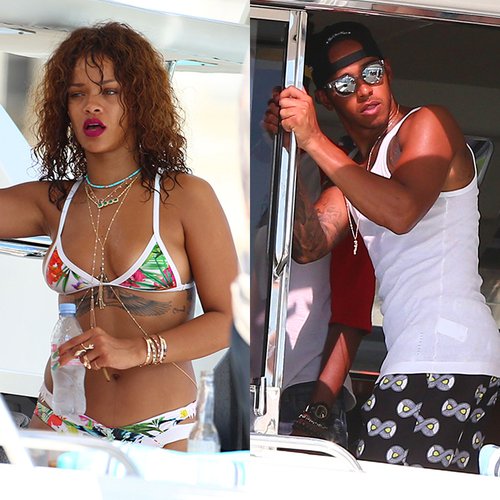 Picture: Splash
Lewis apparently arrived at the venue around 3am and waited for Rihanna to enter the club first before he went in. They were both snapped leaving the
Lewis had an on-off romance with Nicole Scherzinger for much of the past eight years before they finally split in February this year.
What do YOU think to a Rihanna romance with Lewis Hamilton? Could this be the man for RiRi? Or do you think this pair are just friends?
You may also like...
WATCH: Rihanna's 'American Oxygen' Music Video