Rihanna And Drake Spotted Eating Out In London Together
10 March 2014, 11:55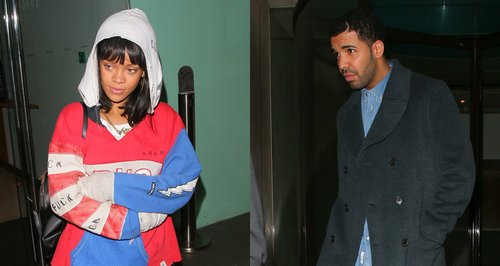 The 'We Found Love' star is facing fresh rumours of a renewed romance with the 'Take Care' star.
Rihanna and Drake were spotted dining out together in London over the weekend, adding further fuel to rumours about a romance between the pair.
The two pop superstars, who have dated in the past, were pictured leaving Nobu restaurant in the UK capital on Saturday evening (8th March), after being spotted together several times already this month.
Rihanna opted for ripped blue jeans and a red and blue hooded sweatshirt for her night out, while Drake followed suit in a denim shirt and jeans.
Check out a picture of Rihanna and Drake on their night out in London below:
The pair are heavily rumoured to have also dined out together in Amsterdam last week.
This month the Bajan star also joined Drake on stage in Paris, France for their first ever performance of 'Take Care'.