Rihanna Thanks "Homegirl" Cara Delevingne For Sending Hug On Instagram
9 April 2013, 12:16
The 'We Found Love' singer shares a moment with the model ahead of her 'Diamonds' world tour LA show.
Rihanna has taken to her Instagram page to post a thank you message to close friend Cara Delevingne after the model sent a virtual hug to the star
The 'We Found Love' singer is currently on the road on her 'Diamonds' tour and expressing her gratitude for the kind message.
"My homegirl @caradelevingne just sent me this hug! This was so kind of you, I phucking love s***t like this! Thanks gra, miss ya, luv ya, see ya soon!," she wrote as she posted the snap.
Cara's message read: "This is what a proper good hug should look like! So sad I can't be there tonight! Luv you @badgalriri see you soon x."
The pair were last seen hanging out together in London as Rihanna launched her debut fashion collection with River Island.
The supermodel also spoke out in defence of the Bajan star recently and said there are few who really understand her.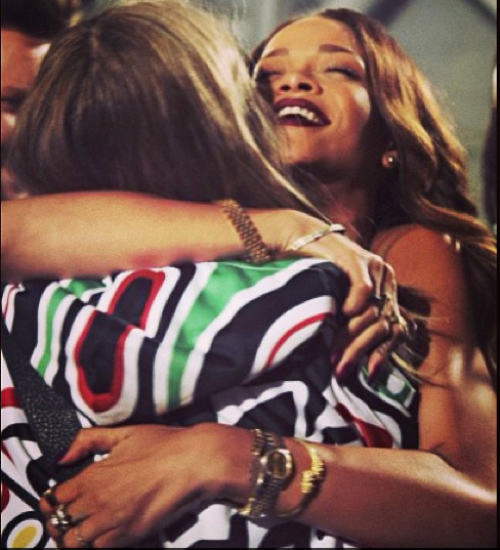 "She doesn't have that many girlfriends but we have a lot in common," she said. "I don't think many girls understand her.''
It was also claimed that Rihanna was going to help the singer launch her own music career.
Meanwhile, Rihanna continued her 'Diamonds' world tour last night (8th April) with a gig at the Staples Center in Los Angeles.