Pink Thanks Fans For Support After Rescheduling Tour Dates To Go On Vocal Rest
18 October 2013, 10:12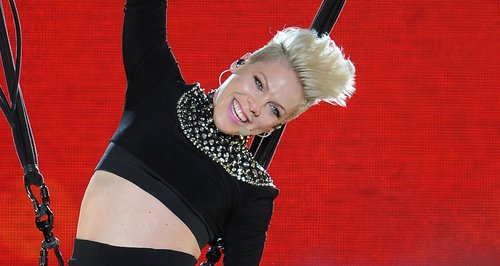 The 'Try' singer has had to delay two tour shows to make sure her voice is fully recovered.
Pink has thanked fans for all of their support after being forced to postpone two tour dates due to illness.
The 'True Love' singer has been put on full vocal rest for four days this week on the advice of her doctors, forcing her to push back two dates on the 'Truth About Love' tour.
"Thanks for all the support y'all. Not very dramatic," Pink tweeted to update fans yesterday. "Doctor just wants me on complete vocal rest for four days to heal. So I can kick ass.
"Both shows rescheduled and very quickly," she explained. "Touring would be terribly easy if I lip synced. See you soon."
The US star had been scheduled to perform in Salt Lake City last night, which has now been changed to 29th October, while her concert in Denver this evening will now take place on Wednesday 30th October.
The 'Try' singer is set to launch her own documentary film about the tour on 7th December across US network EPIX.
Pink's 'The Truth About Love' tour is set to run throughout the remainder of 2013 before drawing to a close with a show in Atlanta on 14th December.