One Direction - 'Drag Me Down'
21 August 2015, 06:38 | Updated: 21 August 2015, 23:34
One Direction - Drag Me Down
03:12
Check out the boys' brand new video - their first without Zayn - as the boys jet off to outer space as astronauts! LOVE IT!
One Direction's first official music video as a four-piece has FINALLY arrived, and the boys don't disappoint… pulling out all the stops for a dramatic intergalactic adventure!
The UK band take on the roles of pioneering astronauts in their new promo, which arrived first thing Friday (21st August) and has gone down a HUGE treat with the Directioners.
Harry Styles, Liam Payne, Louis Tomlinson and Niall Horan each suit up in spacesuits to take on the stars, as the video follows each of them preparing for a voyage into the unknown.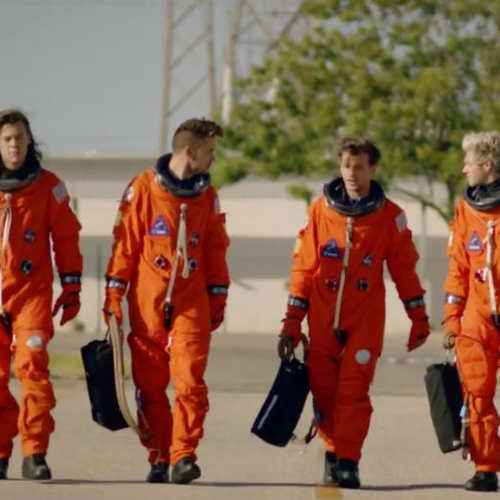 Fans can see Niall practicing his zero gravity moves, Liam working out (in a vest!) to get fighting fit for the trip, Louis learning how to pilot the spacecraft and Harry… making friends with an android robot? Yep… it's ALL in there!
By the time the boys actually take off we're pretty sure all the diehard 1D fans out there will be pretty much swooning on the spot, and remember this is just the FIRST taste of what's to come from the boys this year!
The video was said to have been shot back at the start of August and was directed by Ben Winston, who also created their brilliant 'You And I' and 'Story Of My Life' videos among others.
'Drag Me Down' arrived at the end of July as the lead single from One Direction's new fifth studio album, their first since band member Zayn Malik left the group back in March.
You may also like...