After Niall Horan Released #ThisTown These Directioners Absolutely Lost All Chill
29 September 2016, 16:43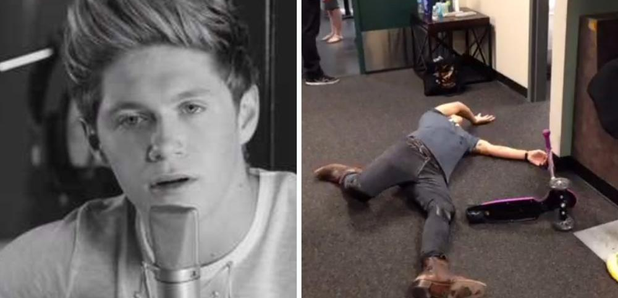 We're guessing people like it then...
So Niall finally dropped his debut solo single and the internet went wild.
We gave it its first play on Capital and Niall also shared a nice monochrome video...
It didn't take long for fans to share their feelings about the track online and it seems these Directioners were pretty pleased with Niall's debut...
When you're happy bc Niall just killed his new solo song but you're lowkey sad bc 3 other boys weren't with him

#ThisTown #iHeartNiall pic.twitter.com/QCE1nG2neq

— One Direction (@NoControlProjec) September 29, 2016
I'm a mess! @CapitalOfficial @NiallOfficial pic.twitter.com/4mAoDGWt6F

— hannah :( (@VampsHannah2002) September 29, 2016
IS THIS HEAVEN?
*SIGH*
..NO, IT'S NIALL HORAN'S VOICE
#ThisTown
I am proud of this man from all my heart pic.twitter.com/fWl1YwbV6O

— best larry pics (@rainbowlarry_x) September 29, 2016
Me when I checked Twitter and saw Niall's releasing a solo song #ThisTown pic.twitter.com/CwnOSK2vMl

— One Direction (@STYLATORARMY) September 29, 2016
@NiallOfficial remember when they turned down your mic... and now look at you, BOOM DROP THE MIC, I'M SHOOK #ThisTown

— Adam (@abnormallyadam) September 29, 2016
#thistown is life pic.twitter.com/mlLSbav6ue

— Leti (@skysiall) September 29, 2016
niall's album is gonna have the same kinda vibe but a little bit more upbeat i haven't heard the songs yet, but I'm already dead #ThisTown

— ℳӃ ପଓ・゚ (@_addictofhxrry) September 29, 2016
niall is just so talented, his voice sounds so good and the song just warms my heart i feel like he's singing to me#ThisTown

— Harry Styles. (@hesguardiangel) September 29, 2016
Are you loving Niall's track as much as these guys?
Let us know at @CapitalOfficial on Twitter.
You may also like...