One Direction's 'Where We Are' Concert Film: 10 Things We Want To See
23 July 2014, 08:23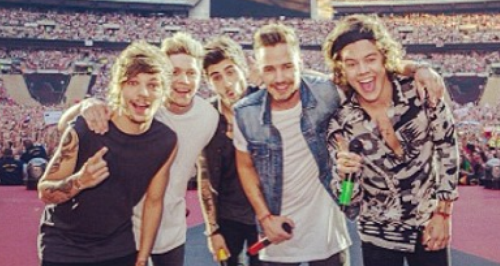 HOORAY, there's a new One Direction concert movie on the way! But besides all their INCREDIBLE tunes, here's what we want to see on the big screen...
It's the news EVERY #Directioner has been waiting for! One Direction have announced that there's ANOTHER movie on the way, this time in the form of their latest tour.
This will be a treat for everyone who didn't manage to get tickets to their 'Where We Are' world tour gigs with this concert film, but while the lads have revealed the footage has been taken from their two dates in Milan, here's the WWA bits we'd REALLY like to see make the cut into their new movie!
1. Niall and Liam recreate a scene Titanic... yep!
Niall being the Kate Winslet to Liam's Leo Dicaprio? Yep, we'd pay to see that in HD.
2. Harry gets spooked by a rogue condom balloon
STILL HILARIOUS.
3. Louis and Zayn bully poor Daddy Direction
Leave poor Liam alone, you two!
4. Niall takes crotch thrusting to a new level
Christ, we're surprised he didn't pull something.
5. Harry gets pied RIGHT off by Zayn
Judging by his face, Haz really doesn't like being left hanging.
6. Louis suffers the greatest cartoon fall OF ALL TIME
No, we are definitely NOT laughing.
7. Liam and Louis have the water fight to end all water fights
Play nice, boys!
8. Harry shows off his ball skills
WE MEANT JUGGLING, obviously. A man of many talents, that boy
9. Torrential rain makes them all look like something out of a rom-com
"I wrote you 365 letters. I wrote you everyday for a year!" (That's a Notebook reference, just FYI).
10. And finally, a nice group hug
All together now, AWWWWW.
You may also like…