One Direction Tickets Go On Sale For Three New UK 'Where We Are' Stadium Tour Shows
28 September 2013, 08:00 | Updated: 28 September 2013, 10:06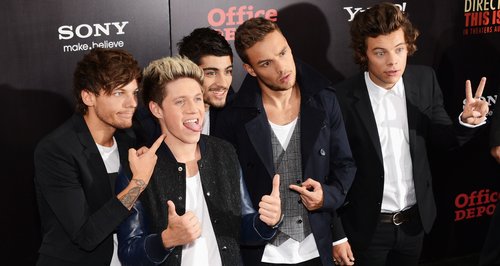 The 'Best Song Ever' five-piece's three new UK shows have now gone on sale for fans to buy.
One Direction tickets for their three newly announced arena tour shows went on sale from today (28th September).
The 'Live While We're Young' five-piece confirmed earlier this month that they have added three brand new stops to their 2014 'Where We Are' stadium tour, with fans now able get tickets to see the band in concert.
One Direction kick off their tour in May next year and will now play additional dates at Croke Park in Dublin (23rd May), at Manchester's Etihad Stadium (30th May) and a third date at Wembley Stadium on 6th June).
The band will be fresh from promoting their new album 'Midnight Memories', the group's third studio record, which officially launches on 25th November.
One Direction tickets are now on sale and fans can get their hands on them right here.
Check out the three additional UK dates for One Direction's 'Where We Are stadium tour below:
Dublin (Croke Park) - 23rd May
Manchester (Etihad Stadium) - 30th May
London (Wembley Stadium) - 6th June
View the originally announced UK tour dates for One Direction' 2014 stadium tour below:
Dublin (Croke Park) - 24th & 25th May
Sunderland (Stadium Of Light) - 28th May
Manchester (Etihad Stadium) - 31st May & 1st June
Edinburgh (Murrayfield Stadium) - 3rd June
London (Wembley Stadium) - 7th & 8th June
Check out the newly added European tour dates for One Direction below:
Stockholm, Sweden (Friends Arena) - 13th June
Cophenhagen, Denmark (National Stadium Parken) - 16th June
Paris, France (Stade De France) - 20th June
Amsterdam, Netherlands (Amsterdam Arena) - 24th June
Milan, Italy (Stadio San Siro) - 28th June
Dusseldorf, Germany (Espirit Arena) - 2nd July
Berne, Switzerland (Stade De Suisse) - 4th July
Barcelona, Spain (Estadi Olimpic) - 8th July
Madrid, Spain (Vicente Calderon) - 10th July
Porto, Portugal (Dragao Stadium) - 13th July