One Direction Want To Emulate Take That With 'Where We Are' 2014 UK Stadium Tour
17 May 2013, 11:17
The 'Live While We're Young' stars talk about taking inspiration from the man band.
One Direction have confessed that their upcoming 'Where We Are' 2014 stadium tour will be taking inspiration from Take That.
The 'Little Things' singers said that if they can emulate the 'Back For Good' stars' live performances they will be pleased.
Liam Payne explained at a press conference for the tour announcement yesterday (16th may) that the boys would also like the longevity of the man band.
"We want to do this for as long as we can really," he said. "We came to watch Take That at Wembley when they were doing their stadium tour and we couldn't believe how big it was, so if we can emulate something like that, I think that's the way to go."
Check out a picture of One Direction on the pitch at Wembley Stadium below: (Picture: Splash)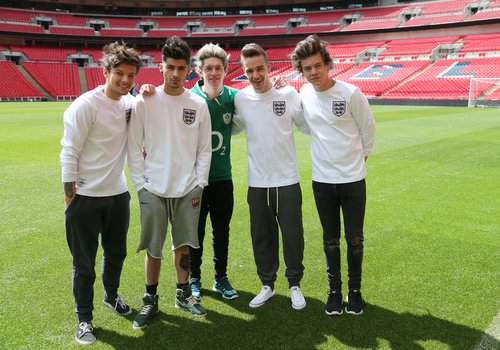 Louis Tomlinson added: "For us, it's more about keeping our feet on the ground and taking every day as it comes.
"That would be great, but at the moment we are just set for the stadiums - I cant believe I'm saying it."
The band will perform dates across Latin America in April 2014 before heading to Ireland and the UK.
One Direction have also told fans to keep an eye out as more dates are expected to be announced soon around the world.