One Direction Join Philippines Typhoon Appeal To Help Victims With Fundraising Telethon
18 November 2013, 16:10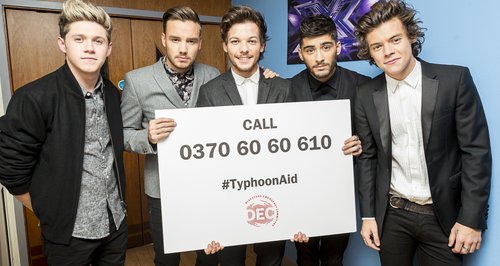 The 'Story Of My Life' band and several other big name stars join a telethon to help victims of the natural disaster.
One Direction join a host of celebrities this afternoon in a special telethon to raise money for the Philippines Typhoon Appeal.
The 'Best Song Ever' five-piece will take donation pledges today at the BT Tower in London alongside the likes of Jamie Oliver and the stars of ITV's Downton Abbey, in an effort to raise money to help the victims of Typhoon Haiyan, which devastated the Philippines last week.
"The pictures I have seen of little children in-between the ruins made my heart break," One Direction's Liam Payne said in a statement. "All of us in the band are shocked by how many people need help, so we're asking the public to continue to be as generous as they possibly can."
One Direction and the other celebrities involved in the event will be taking telephone pledges for the DEC Philippines Typhoon Appeal between 4pm and 7pm today (18th November).
One Direction are currently in the UK after finishing their 'Take Me Home' tour earlier this month, and launch new album 'Midnight Memories' on 25th November.
For the chance to have a donation taken by a celebrity on the one members of the public should call the appeal on 0370 606 0610 between 4pm and 7pm today.