One Direction's Niall Horan Gushes Over Lady Gaga Meeting At MTV VMAs 2013
28 August 2013, 13:44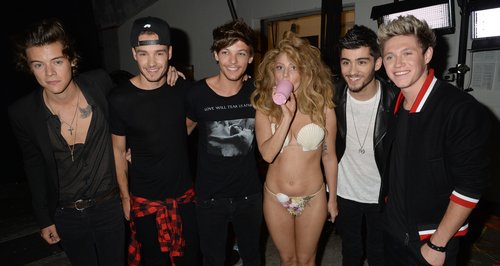 The 'Little Things' star speaks about meeting the 'Bad Romance' singer for the first time.
One Direction star Niall Horan has been speaking about meeting Lady Gaga at this past weekend's recent MTV Video Music Awards 2013.
The 'What Makes You Beautiful' star called Mother Monster "great" after she shared a word with the boys after they were booed picking up Song Of The Summer at the event in Brooklyn.
"Oh my God, Gaga was great," the singer told Hollywoodlife.com. "It was the first time we actually met her.
"We've always, like, been in the same place as her, at the same show, walk past her, but that was the first time we ever spoke to her."
He continued: "Lovely girl, really nice. And she had seashells over her boobs! It was very interesting! The way I look at it, no one else is going to do it, let Gaga do it!"
Gaga told the group at the time: "If I did hear what I heard just there I just want to tell you that you deserve every bit of success that you have and don't you dare let those people boo you."
One Direction brushed off the incident and were in high spirits as they attended the New York movie premiere of their This Is Us movie just days later.