One Direction Reveal They Got A Hotel Maid To Sing On Their New Single 'Best Song Ever'
23 July 2013, 14:03
The 'Live While We're Young' stars premiered the music video for the track yesterday afternoon.
One Direction have revealed how they managed to get a hotel maid to help them out and record a vocal for their new single 'Best Song Ever'.
Speaking to The Sun, bandmate Harry Styles said that the group needed a certain female recording on the track.
"We needed a, you know, a groan on one of the songs," he said. "So I asked a lady at the hotel to record the 'Urgghhhhh!'
The 19 year-old continued: "She was nervous at first but soon got into the swing of it."
The boys also said how they would record on the road in makeshift studios.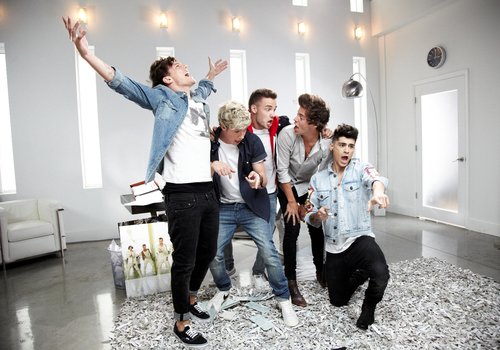 "We had to do it that way or there'd be no time," explained Louis Tomlinson. "We stuck the mattresses against the walls for the acoustics."

Harry also spoke about how they would often get interrupted during a recording by staff at their hotel.
"We'd be recording the best vocal ever — you're thinking, 'I'm really smashing this!' — then there'd be a huge knock on the door and you'd get, 'Room service!' or 'Housekeeping!' We'd be, like, 'Nooooo!' and have to start again," he added.
One Direction's new single 'Best Song Ever' is the first to be taken from their third studio album and is out now.