One Direction's New Music Video: Fans Speculate About Song Choice
25 March 2014, 15:12 | Updated: 25 March 2014, 15:18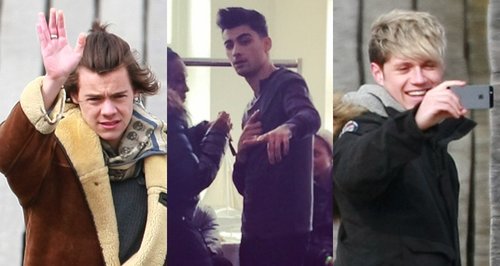 The Directioners have been tweeting all day to guess which track is getting the music video treatment next.
One Direction confirmed this week that they have been shooting a brand new music video out in Somerset this week, with fans quickly taking to Twitter to speculate about which song it will be for.
Fans have suggested 'Midnight Memories' album tracks like 'Diana', 'You And It' and 'Don't Forget Where You Belong' as potential choices for the new video, while many are pointing at 'Through The Dark' as the most likely song for the video treatment.
Other fans have also tweeted to suggest it could be a brand new song that doesn't feature on 'Midnight Memories', either for a film soundtrack or as an early preview for the boys' next record.
See what One Direction fans on Twitter are saying this week about the brand NEW 1D music video:
1. This Directioner seems dead certain the band are shooting a promo for album track 'Through The Dark'.
CAN THE NEW ONE DIRECTION MUSIC VIDEO PLEASE BE FOR THROUGH THE DARK THAT IS MA JAM

— sam✌️ (@TommoLover1D) March 25, 2014
2. And they're not the only ones...
THE NEW MUSIC VIDEO OF @onedirection IS FOR THROUGH THE DARK GIVE ME A MOMENT PLS.TY #KCA #Vote1DUK #VoteStoryOfMyLife

— HaroldYo (@swaggyharold969) March 25, 2014
3. Some fans are only just picking up on the new that Harry, Zayn, Niall, Louis and Liam have been on their secret shoot this week...
What music video are One Direction shooting!? What song!? Why am I only seeing this now.. Fml!

— Nelly (@Nellworth) March 25, 2014
4. This One Direction supporter is hoping fan-favourite track 'You & I' is the video in question
all directioner eagerly awaiting the video of you & I....I you guys.... @onedirection

— Alessia Horan Styles (@alessia_horan20) March 25, 2014
5. Which track do you think the band are shooting their music video for?
I love good news in the morning :) 1D is making a new music video! #ThroughTheDark @1DFAMlLY @onedirection

— Alaina Marie (@AlainaMarieM) March 25, 2014
6. Could it be for 2013 promotional release 'Diana'?
@onedirection what music video are you doing next? Diana? You and I?

— Samantha Snaddon (@SamanthaSnaddon) March 25, 2014
7. Other fans don't seem to mind which song it's for… they're just excited to see the finished video!
@onedirection are filming their new video.Can't wait to see it!!!Im so excited!! xx

— Mrs.Stypayhorlikson (@IsieneMalik) March 25, 2014
8. Of course, in true Directioner style, the excitement levels are VERY high
If really One Direction are working on the video of "You and I" I can just start counting days 'til the end of my life. Keep calm.

— Ester Giselle Tullo (@EsterGiselleOff) March 25, 2014
9. The One Direction boys must be loving the suspense about what they're working on out in sleepy Somerset
@CapitalOfficial don't forget where you belong 10000%

— Livvy (@oliviavphillips) March 25, 2014
10. Come on boys... put the fans out of their misery already
@CapitalOfficial @onedirection little white lies?? i hope!!!!!!

— Krissie (@Krissieox) March 25, 2014