11 Vines To See If You're Compatible With 1D's Louis Tomlinson
24 July 2014, 10:26 | Updated: 27 August 2014, 15:15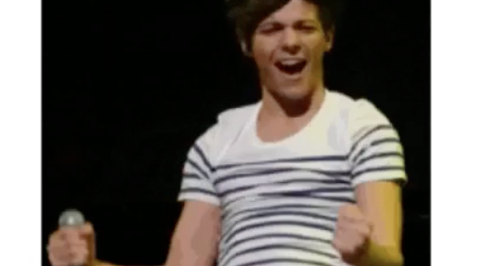 Are YOU compatible to be the future Mrs Tomlinson? These handy Vines will tell you what you need to do/be/like, with the use of PROPER SCIENCE. (Kind of..)
We'd definitely take any of One Direction as our future husband, but if you're looking to date Louis Tomlinson, there are certain criteria that you'll have to meet to snag this particular 1D hotty. Well, you DO want to have the best chance to catch his eye, right? We've used ACTUAL SCIENCE* and everything…
(*No real scientists were harmed in the making of this guide)
1. You have to be a fan of pizza
Salad munchers need not apply, Louis LOVES a good old cheesy slice of pizza - and if you do too, we reckon you're onto a winner! (You may have to fight Jennifer Lawrence off first, though.)
2. You MUST like watching fit men in football kits
We know - SUCH a chore, right? We'd brave the sidelines in the rain if our local Sunday League team looked like THIS. Louis loves football, so you'd probably have to (at least pretend) to like it too.
3. You have to be sassy…
Don't forget, you would be dating the KING of sass himself - so it's probably going to help if you can give as much sass as you get.
4. … like, SUPER sassy
Seriously, if you can't take the sass, you need to get out of the kitchen ASAP.
5. You have to be open to alternative modes of transport
If you want to be 'Ridin' Dirty' with The Tommo, you need to be aware that it MAY well be in a shopping trolley.
6. Hide and Seek is a MUST
Just IMAGINE this little face popping up where you least expect it. It's the stuff dreams are made of.
7. You can't be shy of a good PDA
Louis Tomlinson yelling that he loves you in public spaces? People would pay a LOT of money for the privilege.
8. You need to like a good boogie
As if you need an excuse to 'Wiggle' with The Tommo?
9. A good working knowledge of weird '90s songs is useful
Even if songs like this should NEVER be inflicted on the ears of humans again.
10. You WILL be putting up with some pranks
Bottle of water on the toe, anyone? Louis is a bit of a prankster, so you'd better be on your guard at all times if you're dating the Tomlinson.
11. You'd be seeing a LOT of this
(Well, we had to shoe-horn the crotch thrusts in somehow!)
Are you open to all of the above? CONGRATULATIONS! You're officially compatible with Louis Tomlinson! You lucky, lucky thing!
If you liked these Vines of Louis Tomlinson, why not check out Zayn Malik's secret skills too?
You may also like…