One Direction's Liam Payne Reveals Tattoo With New Song Lyrics
29 August 2013, 12:03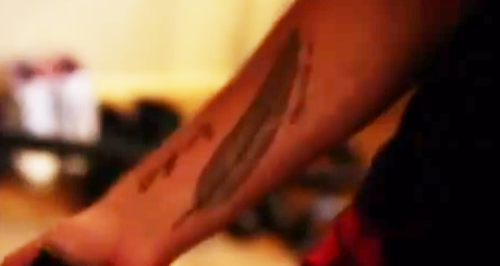 The 'Little Things' star also reveals the significance of his new feather tattoo.
One Direction Liam Payne has showed off a brand new tattoo this week that reveals a line from a new song from the UK boy band.
The 'Best Song Ever' singer revealed a tattoos of a feather alongside the line "I figured it out…" on his right forearm this week, and says it's the first tattoo that his mum actually approves of.
My mum hates tattoos but she likes this one, because this one is specifically to do with my nan," Liam revealed on ABC's Nightline this week. "That was actually the one that turned her around to tattoos and she was ok with it.
"It's not so much what it says, that's actually some of the new words from one of our new songs that's not out yet," Liam teased. "That is a big exclusive, that's actually one from the start of one of the songs, so that'll come to play later on.
"The feather was a thing, when I was a kid we used to find feathers around the house and whenever we found them my mum used to say it was my nan leaving them around for us to find, so that was quite sweet."
Check out a picture of Liam Payne at JFK Airport earlier this week with a baby below (Credit: Splash):
The 'Little Things' singer even joked that he had turned his mum around so much to the idea that she could be the next one to get inked.
"I think she might get one, one day!" he added.
One Direction unveiled a brand new TV trailer for their new fragrance Our Moment earlier this week.