Harry Styles Kisses Zayn Malik In New Advert For 'Our Moment' Fragrance - Video
15 June 2013, 09:26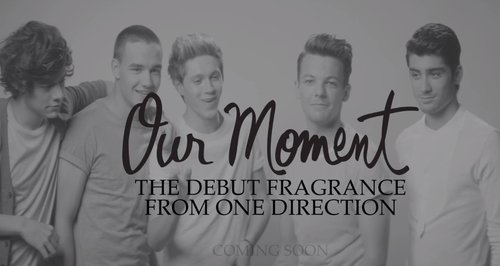 The 'Little Things' five-piece are seen messing around in a brand new promo teasing the upcoming product.
One Direction's Harry Styles plants an affectionate kiss on his bandmate Zayn Malik's cheek in a new promo video for their first ever fragrance.
Several weeks ago the boy band announced plans to release a perfume called Our Moment later this year, and all five boy band members star in a short black-and-white teaser for the upcoming product release.
The one-minute teaser clip sees the 'Live While We're Young' stars in a playful mood as they mess around together, with Harry surprising Zayn with a cheeky kiss from the side of the screen in one part of the new video.
The 'Little Things' stars are also each seen holding up the perfume's fragrance bottle, before going together for the end as they share a final joke on screen.
Harry Styles is seen holding up the bottle for Our Moment below:
The band are currently out in America where they have been filming a brand new music video in Miami this week.
'One Way Or Another' singer Harry Styles features in a new solo song that emerged online yesterday (14th June) called 'Don't Let Me Go', which has caused a flurry among his biggest fans online.
View a picture of Harry kissing Zayn in the video promo below:
One Direction's debut fragrance Our Moment is currently expected to drop around September time this year with a full TV advert coming soon.
Watch the newly unveiled promotion video for One Direction's Our Moment fragrance below: