Harry Styles Cruises Backstage On Segway With Young One Direction Fan
16 April 2013, 11:14
The 'Little Things' singer was seen playing around before one of the group's shows on their 'Take Me Home' world tour.
One Direction singer Harry Styles has been pictured treating a young fan to a ride on a Segway backstage on the band's tour recently.
The 'What Makes You Beautiful' star could be seen holding his hands in the air as he let the fan steer the machine ahead of the band's sold-out 'Take Me Home' UK tour show in Sheffield.
The 'Little Things' singer was wearing a grey jumper and beanie hat as he relaxed before the show and met several other fans.
The rest of the group were also seen posing with some of their biggest admirers.
One Direction are nearing the end of the UK leg of their world tour, and will head around the rest of Europe at the end of month – starting in Paris on 29th April.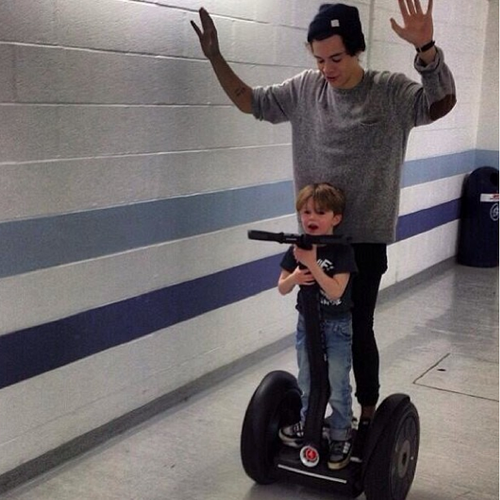 Meanwhile, One Direction are among the stars paying tribute to the victims of the Boston Marathon bombings – which hit the US city yesterday afternoon.
Tributes continue to pour in from the world of music, with stars such as Taylor Swift, Justin Timberlake and The Wanted all offering their condolences.