One Direction Go Topless As Harry Styles Gets Running And Niall Horan Rides Segway
8 July 2013, 16:05
The 'Live While We're Young' stars were spotted enjoying a "rest day" as they continue the 'Take Me Home' world tour.
One Direction stars Niall Horan and Harry Styles were pictured topping up their tans as they played around on a Segway and went running on a "rest day" from their new fitness routine.
The boys were pictured in an empty Hersheypark Stadium as they flaunted their toned torsos.
The shot was captured by trainer Mark Jarvis and captioned: "@Harry_Styles C.V day, @NiallOfficial rest day! :)"
Mark often posts shots of the boys in action as they undergo his strict plan in the gym.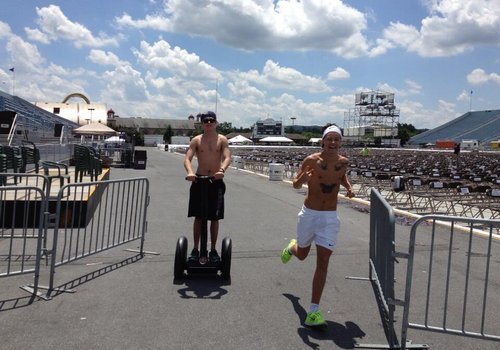 Harry was also praised for his effort running up the stairs in the stadium.
He added: "Great work by @Harry_Styles today. Tremendous effort on stair climbs in mega heat! @1MuscleMachine #machine!"
Harry Styles has also been rumoured to have taken up ballet to try and emulate Rolling Stones singer Mick Jagger.