One Direction's Harry Styles Pictured In Bed By 3D Movie Director Morgan Spurlock
5 April 2013, 11:09
The 'Little Things' singer was snapped by the man in charge of filming their big screen debut.
One Direction singer has been pictured sleeping in bed by director of the band's new film Morgan Spurlock.
The Super Size Me man has been filming the group for the past few months as they prepare for the release of their debut big screen movie.
"Rise & Shine! Waking up with Mr. @Harry_Styles @1DThisIsUs," he wrote alongside the snap.
Morgan also took part in a fan question and answer session this week and divulged further details on the group's movie.
He promised topless action, a DVD and predicted fans would be in tears at the emotional moments in the film.
Meanwhile, the band brought their 'Take Me Home' world tour back to London this week and last night were tweeting how "incredible" the crowd were at the O2 Arena.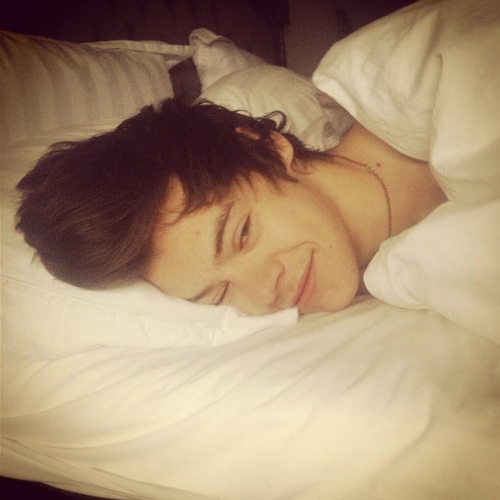 Harry wrote: "London @o2arena you were incredible tonight. Thanks for coming, crowd was amazing .x"
Zayn also added: "So TONIGHT was pretty bad ass O2! loved it! thank you to the best fans in the world ! :D x"
The tour continues tonight (5th April) at the same venue with one more night and then a trip to Newcastle planned.