Zayn Malik Becomes Female Secretary In Final 'Best Song Ever' Teaser Trailer - Video
22 July 2013, 10:14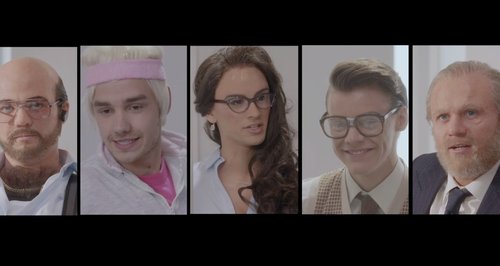 The 'Little Things' stars unite as their various characters ahead of the music video's first play today.
One Direction's Zayn Malik is seen transformed into a female secretary called Veronica in the latest teaser for the band's 'Best Song Ever' music video.
The 'Live While We're Young' five-piece released their new song earlier today (22nd July) alongside a final teaser showcasing the band's various characters throughout the video promo.
The UK boy band each take on a different character in 'Best Song Ever', with Niall Horan wearing heavy prosthetics as Harvey the studio executive, Harry Styles showing off his inner geek as Marcel the marketing guy and Louis Tomlinson channelling Tom Cruise in Tropic Thunder.
Band member Zayn Malik is the final One Direction star to receive his own teaser trailer, as he dresses up as a female secretary complete with long brunette hair and a ladylike blouse.
Check out Zayn Malik's transformation in a teaser trailer for 'Best Song Ever' below:
The final 'Best Song Ever' music video teaser also gives fans a brief glimpse behind the scenes on set as the band members sit in make-up and wardrobe to create their new looks.
One Direction released 'Best Song Ever' today and the music video for 'Best Song Ever' drops today with a first play on Capital TV at 6.15pm on Sky 388 and Freesat 517.
Check out the final teaser for One Direction's 'Best Song Ever' music video below: