One Direction: 14 GIFs That Prove The Boys Still Rule The Pop World
27 May 2014, 11:52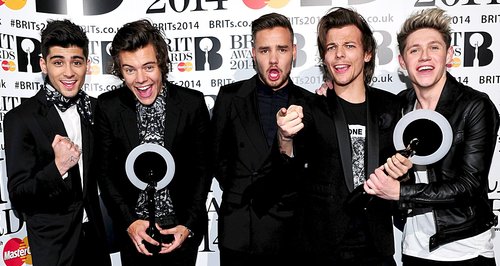 Check out some of the most amazing, cutest, mind-blowing and hilarious GIFs of everyone's five favourite boys.
In just over one week's time One Direction bring their 'Where We Are' stadium world tour to the UK and Ireland as the perfect homecoming to the past few years of their incredible successful pop career.
The boys have three albums to their name already, with a fourth on the way, and after kicking off their new tour in South America earlier this month it's clear the world's appetite for these five boys is still growing by the day.
Join Capital as we celebrate the 14 things about Harry, Zayn, Liam, Louis and Niall that prove just why they're so... damned... AWESOME!
1. This moment when Harry accidentally caught a bra thrown on stage by a fan is... basically... PRICELESS!
2. Plus we LOVE that these chaps aren't afraid the crack out a "Hell yeah" when the right moment strikes...
(Credit: Tumblr/Hayyr)
3. Plus there's the fact that Niall pretty much has his own unique twerking style down to a T...
(Credit: Tumblr)
4. Louis' perfected the unique art of answering interview questions without even uttering a sound
(Credit: Tumblr)
5. Niall flexes his biceps... and the crowd goes wild!
(Credit: Tumblr/MACrazyMofo)
6. These boys NEVER stop working... or working out! #NotComplaining
(Credit: Tumblr/BlameNarry)
7. You just know Niall's about five seconds away from screaming, "I'm the king of the woooorld!"
(Credit: Tumblr/Jamiebls)
8. Another reason the world loves a bit of 1D... they ALWAYS look after each other through all the craziness!
(Credit: Tumblr/Hayyr)
9. Oop... Niall's twerking again! #Sorry #NotSorry
(Credit: Tumblr/Nikora)
10. We reckon 1D owe at least SOME of their success to moments where Harry ups the sexy factor and does dances like this...
(Credit: Tumblr/TheOneWhoProtested)
11. Proof that Liam Payne's hips do NOT lie!
(Credit: Tumblr: 2angels1love)
12. Are there many other male stars as famous as this curly-haired lothario right now?
(Credit: Tumblr/HarryThoughts)
13. Lifting weights and looking after himself hasn't exactly hurt Harry's rankings in the world's SEXIEST men...
(Credit: Tumblr)
14. But the MAIN reason the world still loves 1D... is because they remember exactly where these five boys came from!
(Credit: FlawlessIrish)