One Direction Pranked By Ant And Dec During Super Fan Sketch
22 March 2013, 12:32
The 'Little Things' stars called for an ambulance after one of the TV hosts fainted in New York.
One Direction will be seen getting pranked by TV duo Ant and Dec this weekend during a sketch for their latest episode of Saturday Night Takeaway.
The 'What Makes You beautiful' stars were tricked by the stars backstage at their Madison Square Garden show in New York last year.
Dec poses as Jack – who claims to be the group's biggest fan from New Zealand and was especially flown in for the performance.
He is accompanied by Dec – playing a New Zealand TV presenter called Ben.
The group are then fooled into calling an ambulance when Dec faints with an asthma attack.
Check out a picture from the show below: (Picture ITV)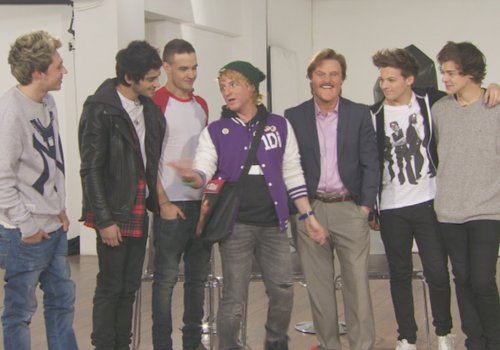 Ant explained: "I introduced him to the group and the meeting didn't go as planned. But they fell for it."
The clip will be shown on the ITV show tomorrow night (23rd March).
Meanwhile, One Direction are currently on the road for their 'Take Me Home' world tour – which sees them roll into Birmingham tonight for the first of two shows in the city.