The Anchorman 2 Cast Gush About "Sweet" One Direction: "They Have Beautiful Hair"
12 December 2013, 12:07 | Updated: 12 December 2013, 12:10
The stars of the new film hit the red carpet in London's Leicester Square last night.
The Anchorman 2 cast spoke to Capital last night at the premiere of their new film to praise One Direction.
Paul Rudd Gushes About One Direction In London
The boyband joined forces with Will Ferrell, Steve Carell, Paul Rudd and David Koechner for a rendition of 'Afternoon Delight' during their recent appearance on Saturday Night Live.
Will Ferrell Chats To Capital About One Direction
Capital's showbiz reporter Kevin Hughes spoke to Paul, Will and Steve about their time with the group on set.
"They are the coolest. They are such great, great guys. It was really nice to meet them," revealed Paul. "They were such great sports and we got to sing with them. They say they were Anchorman fans when we were singing and looking at each other and smiling and getting a kick out of it.
Steve Carell Praises One Direction At The Anchorman 2 Premiere
"Meanwhile, we were all kind of like 'God, you guys really are singers, you make us sound way better.' We were excited to be singing with One Direction."
Steve Carell, who plays weatherman Brick Tamland in the film, added: "They were great. They are actually incredible sweet guys and really talented. I was impressed by them. Actually, before I left SNL that was the last thing I said.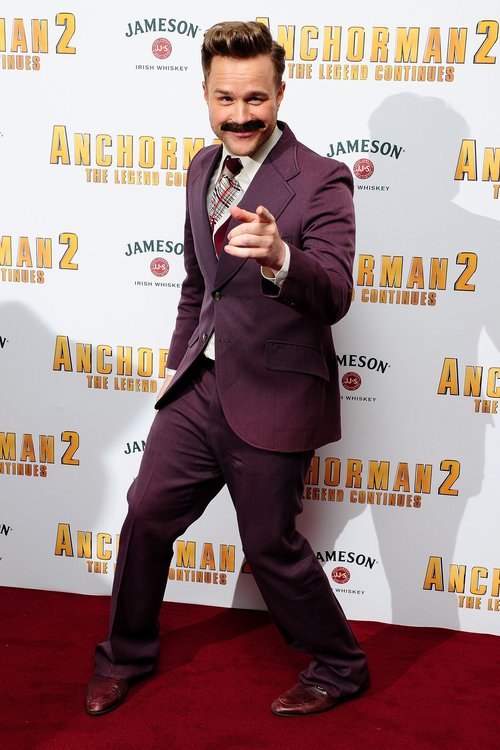 "I told them all, to see people, to see young men that are so popular and so successful and so grounded and cool and nice is really great to see."
Will finally added: "They are actually great guys in that boyband world, thy have no attitude. They are actually the sweetest guys and were so excited to sing 'Afternoon Delight' with us that it was great. And they have beautiful hair so I can't argue with them."
Friend of 1D, Olly Murs was also on the red carpet of the premiere last night in London and showed off his love of Ron Burgundy with a comical tache.