People Are Accusing Brad Pitt Of Copying Harry Styles' Photos & We Can Kinda See Why
5 May 2017, 16:11 | Updated: 5 May 2017, 16:13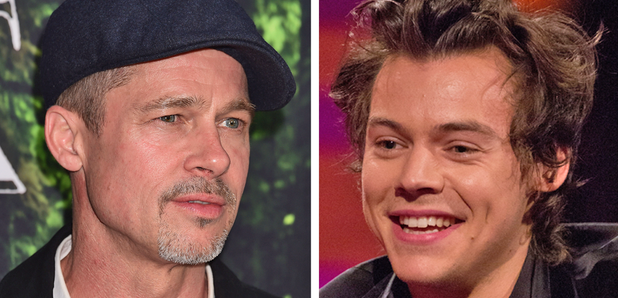 But we know exactly why this whole thing happened!
Brad Pitt was recently featured in an interview with GQ that included a number of well-shot pictures of the Hollywood star. While most people simply looked at and appreciated the stylish photos, some One Direction fans noticed something weird about them - that they were actually almost identical to photos of Harry Styles!
We're not ones to buy into conspiracy theories too often, but this initially had us pretty shook, just look at the side by side pics that some fans shared on Twitter of Brad's recent shoot alongside Harry's earlier one from Another Man...
Is anyone going to point out that these Brad Pitt pics are just the Harry Styles photoshoot part 2 pic.twitter.com/8m9pBnMDlx

— Miranda Langford (@mirandalang) May 3, 2017
Brad Pitt / Harry Styles pic.twitter.com/bMRCQue9FO

— leeloo dallas (@Giada512) May 4, 2017
So what's going on here? Are we just seeing things or are these two sets of photos basically identical?
Well we can reveal that the answer lies with the photographer. Ryan McGinley was the man behind Harry Styles original photshoot with Another Man and he also took the photos for Brad Pitt's feature in GQ.
Whilst it's obvious McGinley was so pleased with the reaction to his Harry Styles pics that he wanted to go for a similar effect with the new Brad Pitt shoot, it seems some people were less than kind about the similarities on Twitter...
Did Ryan McGinley run out of ideas and just copied shots & clothes he did for Harry Styles for Brad Pitt? Lololol, bro.

— Holly (@hollye83) May 3, 2017
Why did Ryan McGinley shoot Brad Pitt in the same kind of settings & clothes as H. Styles why does he wanna flop so bad? Who let this happen

— Chloé (@barbstressland) May 4, 2017
McGinley loved his photo of Harry Styles with tears in his eyes so much, he recreated it with Brad Pitt! https://t.co/KKhobwmpEZ

— PerraVieja (@Yeoldedogg) May 3, 2017
Well you can't please em all Ryan eh!
You may also like...