Fans Bombarded Nicki Minaj With Snapchat Calls & Some Of The Messages Were Blunt AF
25 July 2017, 12:51
Let's give her a lil break though...she's only just joined!
Signing up to Snapchat is a piece a cake. Type in a username and a password and you're pretty much halfway there. BUT, if you're one of the most famous women on the planet, it can be a little trickier.
>We Can't Stop Looking At This Amazing Picture Of Nicki Minaj Shooting Fire From Her Bum
Nicki Minaj, the QUEEN finally joined Snapchat last night and in her eagerness to tell her Barbz, she shared her Snapcode on Insta...MISTAAAKE!
As a Snap amateur, Nicki forgot to turn off the option which allowed her fans to call her and well, you can imagine what happened next right?
Thousands and thousands of fans quickly jumped at their chance to directly contact their fave singer, but the messages varied from sweet to pretty crazy.
>Nicki Minaj Is Paying Off Random People's Tuition Fees & Here's How She Can Pay Yours...
One user messaged, 'Yaaas Queen, I love you", to which the star actually replied however others weren't as sweet:
One message reads, "B***h you ignoring my calls?! Pay for my college tuition sis!"...come on now...we know Nicki's done that in the past but let's not just start demanding now k?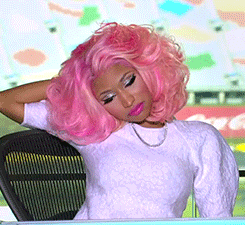 Let's just have a look at what Nicki Minaj does best shall we?!