Is Nicki Minaj Pregnant? Everyone's Confused After Her Cryptic Baby Tweet
12 July 2017, 16:01 | Updated: 5 December 2018, 11:33
Fans don't know what to think!
We've already had Beyoncé and Cheryl's babies in 2017, but could there be another celebrity baby on the way too? Nicki Minaj managed to get tongues wagging after posting a baby emoji to Twitter with no explanation.
Nicki took to Twitter to post the solitary emoji and has since been tweeting about everything aside from the mystery baby - which has left fans wondering whats going on.
— NICKI MINAJ (@NICKIMINAJ) July 11, 2017
Fans were convinced the cryptic tweet meant there was an impending announcement:
Why is she liking all the pregnant related comments

— Niya (@Truebeautyniya) July 11, 2017
Nicki talking to the kingdom after we had a breakdown cause a baby gone come before the album pic.twitter.com/K5HQ1YNzHV

— Alluring Ivy (@Drebae_) July 11, 2017
Onika are you.... are you pregnant? pic.twitter.com/48EXkz6hAw

— ᴺᴷD'ara|Onika's Dora (@ItsMe_NotYu) July 11, 2017
You having a baby sis pic.twitter.com/6iMAXjve4F

— Shawn (@ShawnMinaj) July 11, 2017
Sis we need Answers .. pic.twitter.com/TJ1z3gcbbH

— Barb_Minajesty (@barb_minajesty) July 11, 2017
It's not the first time pregnancy rumours have surrounded Nicki - when Beyoncé announced she was expecting her recently born twins, Nicki posted a photo on her own Instagram account showing her with a massive baby bump and the caption "#ATBIMS y'all so childish - I was gonna wait to share the news but..."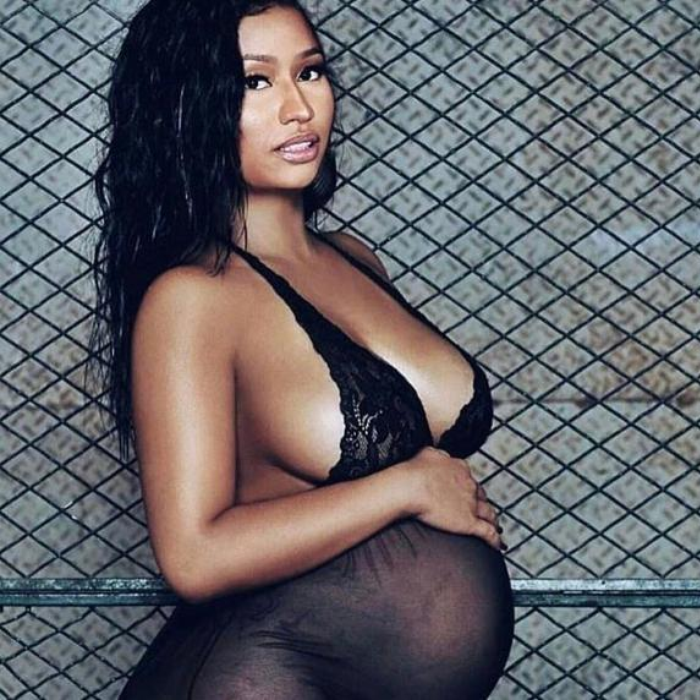 While most fans were quick to assume that it was a Photoshop job and Nicki was just trolling her fans, others weren't so sure – after all, it is a pretty convincing edit!
Some people were totally fooled:
Nicki Minaj pregnant & nobody is talking about it

— #21Slayage (@Asap_Rocki) February 7, 2017
It's contagious @NICKIMINAJ is pregnant too!

— SEAN (@seanpic__) February 7, 2017
Beyoncé pregnant, Ciara pregnant, & now Nicki Minaj pregnant

— Larisa (@_EnvyMonae) February 6, 2017
So Nicki Minaj pulled a Beyoncé and is pregnant too

— leanne (@leanneellis_x) February 6, 2017
Beyonce and Nicki Minaj is pregnant at the same time.

— Chynna (@QUEENDAYNITA) February 5, 2017
Nicki Minaj pregnant too where have I been ?

— LIYAH (@lilliyahfineass) February 5, 2017
While others clocked the fakery straight away (well, Nicki was just on holiday a few weeks earlier, posting swimsuit photos with a flat belly):
so i heard somebody say " Nicki Minaj is also pregnant, how easy can people still be fooled??" pic.twitter.com/jXZLmIUWq4

— forgive US Portia (@InnocentPosh) February 7, 2017
Yo @NICKIMINAJ not even pregnant I'm pretty sure it was a joke

— Rapperg (@iamrapperg) February 6, 2017
@NICKIMINAJ Can you tell the young IG barbz you are not pregnant they really think you are now

— Nick (@SpottieDotti) February 5, 2017
Those "leaked pictures" Nicki Minaj are fake. Seen those pictures before on Tumblr

— Olinda Dowsett (@olindadowsett11) February 7, 2017
We're going to have to wait and see what that mystery emoji is all about – but the idea of a mini Nicki Minaj is pretty awesome!