Mariah Carey Calls Nicki Minaj "Satan" And Says Working On American Idol Was "Hell"
14 November 2013, 10:08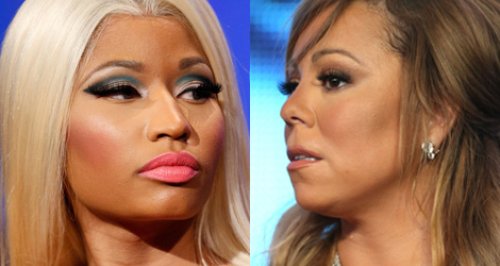 The former judge talks about her time on the US music reality show.
Mariah Carey has called working on American Idol "hell" and re-opened her feud with Nicki Minaj by referring to the rapper as "Satan".
The pair came to blows straight away during recording for the show after a video emerged of the pair exchanging words during auditions.
There were also several spats during the live shows and in interviews from both artists.
"Honestly, I hated it," Mariah told Hot 97 this week. "'I thought it was going to be a 3-person panel... but it wasn't that. It was like going to work every day in Hell with Satan."
The singer then attempted to backtrack slightly on her comments by reassuring the station that it wasn't as bad as she thought.
"I'm just playing!' she laughed. "It didn't affect me that much. I was disappointed."
"I loved the contestants," she added. "And some of them were so good, and also really good people, and it was disappointing when they would - for political reasons - not put people through. And I'm like 'I do not have to sit here and do this!'"
Both Nicki and Mariah stepped down following one season on the show with Jennifer Lopez returning to her seat on the panel.
Keith Urban and Harry Connick Jr are the other two judges on the 2014 edition.