Nicki Minaj Arrives 13 Minutes Late For Live American Idol Show
14 March 2013, 09:08
The 'Super Bass' star blames traffic and was teased by fellow judges on last night's show.
Nicki Minaj Arrived 13 minutes late for a live American Idol show last night (13th March).
The 'Pound The Alarm' rapper was delayed by traffic in Los Angeles with a bemused Ryan Seacrest even sitting in her vacant seat as the episode kicked off.
"We are coming to you live and on time," he joked. "Say hello to three of your four judges who have made it here on time."
Sat down among judges Randy Jackson, Mariah Carey and Keith Urban, the TV host gave fans further information on the singer's absence.
"So this is where Nicki…I hear she is seven minutes out and there is some congestion on the 405 [Freeway], she should be here momentarily," he said, as randy quipped "I heard it was the 101 [Freeway]."
Ryan continued: "Well the show must go on so lets get the party started."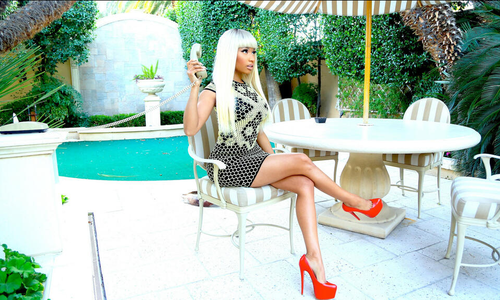 The jokes continued into the show as the US presenter asked which member of the team had "drained the fuel" from her car.
Nicki eventually showed up wearing a black hooded jacket and sunglasses with no further mention of the absence despite the singer missing the performance of opening contestant Curtis Finch Jr.
Meanwhile, the 'Moment 4 Life' star took to Twitter this week to showcase photos of herself wearing a skimpy bikini as she filmed a new music video.