WATCH: Nicki Minaj Gives A Cheeky Female Fan A Hilarious Lap Dance On Stage
9 April 2015, 10:37 | Updated: 9 April 2015, 10:46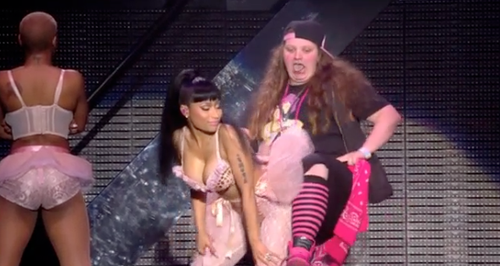 Nicki Minaj is never the shy and retiring type – but this request from an over excited female fan even made her blush!
You can always rely on Nicki Minaj to bring the humour to her shows – and her 'lap dance' for a cheeky female fan in Nottingham is a must see!
When Nicki brought some fans up on stage with her for a section of her show, the cheeky girl asked Nicki if she could have a lap dance from her on stage.
While Nicki initially said no, she then twerked on the fan – who threw in some choice dance moves of her own! Nicki was so tickled by the experience, she posted videos of the occurrence on Instagram.
It turns out that this wasn't the first time Nicki had met this girl, however - she posted a photo of the two of them from a few years back as well. Nicki also took to Insta to post up a cheeky meme some of her fans have created:
It's not quite the type of dance Nicki gave Drake in her 'Anaconda' video, but how many people can say that Ms Minaj has twerked on them in front of thousands of fans?