Anacondas At The Ready! 11 Nicki Minaj Dance Moves To Impress Your Mates With
21 September 2014, 21:57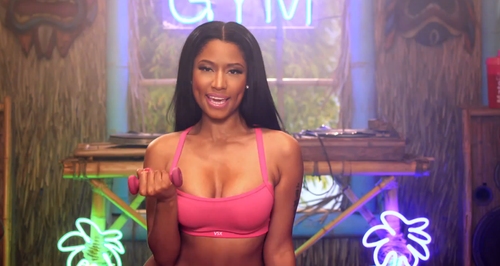 Ready to let your inner-anaconda out and raise the dance floor stakes on your next night out?
If there's one person who can teach you a thing or two about tearing up the stage with numerous impressive booty-shaking moves it's Queen Minaj. Loosen up your body, crank up Capital loud and prepare to discover muscles you never knew you had!
1. Let's kick things off with a really simple lip movement which oozes attitude...
Image: Tumblr
It's a perfect signal to kickstart your moves to those dirty bass beats, or simply to let those around you know they're in your zone and you mean business!
---
2. Recruiting the help of a mate and perfecting that synchronised swing is a safe bet for a few extra entertainment points.
(Image: GIFY)
Obviously if you so happen to have the right contacts to draft in the help of Biebs then you'll be storming up to the A-List quicker than in the Kim Kardashian game!
---
3. So the next dance move might look like it requires more feathers than Alan Carr's dressing room, but if you didn't have to time to prepare one (an outfit) earlier don't panic, this move's all about the POWER walk.
(Image: Tumblr)
Start with a serious glare and let that dancefloor know you mean business. To the side ladies, the talent is coming through.
---
4. We've done this before but it's a safe bet to drop into your dancefloor routine. After 3. 1...2...3...TWERK!
(Image: Tumblr)
WARNING! Do consider the outfit you're wearing when doing this one. Capital takes no responsibility for any wardrobe malfunctions especially embarrassing tears in your trousers.
---
5. Who knew that rowing in the club could be so much fun! The best thing about this move is that you can involve your mates too, making you the real party animal of the group. Obviously the pink wings are optional...
(Image: Tumblr)
You'll be aiming for Olympic Gold in no time.
---
6. Ok let's work those hips and get our your imaginary hula hoop! Perfect this move and your mates will think they've been hanging out with Shakira in disguise!
(Image: Tumblr)
Well they probably won't but everyone loves a good bump 'n' grind right?
---
7. Ok so this is what happens when you shake what yo mamma gave you straight after a cheeky Tequila. Still multi-tasking and still working those moves is GUARANTEED skill to impress.
(Image: GIFY)
Don't use this move too many times though, if the wind changes your face might just stay like that!
---
8. How low can you go? How low can you go? Another perfect way to stand out from the crowd.
(Image: Tumblr)
*Round of applause*
---
9. So this one's called the SMUG SWIRL. Look around, judge everyone else's moves and accept that they just ain't as good as yours!
(Image: Tumblr)
That's so ratchet.
---
10. By now most of the dancefloor should be checking you out wishing they were just as talented, but this is where the REAL fun starts... let's conga!
(Image: Tumblr)
Obviously you'll be leading the way at the front. #NATCH
---
11. OK! So when you're in full swing with your booty-shaking dance moves and feel confident that your mates are in ora of your skill, it's time to finish things of with the big ANACONDA ASS BOUNCE.
(Image: MTV Tumblr)
Pull this one off and it's game, set and match. OMG! look at her butt.
So that's it. Bust a few of these beauties and you'll be leader of the pack in no time! Look what happened when Liam Neeson followed this guide...
You may also like...