Watch The Moment Nicki Minaj Gets Hit On By A Boy As She Performs At His Bar Mitzvah
28 April 2015, 11:47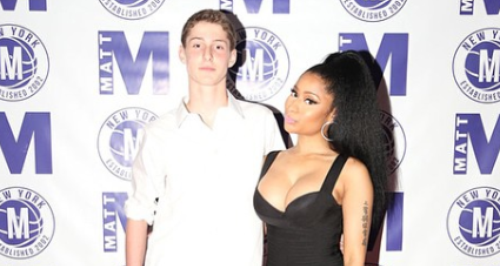 It's not the first time a fan has tried their luck with Nicki on stage – watch her lose it as a young boy hits on her on stage!
If any star is likely to get hit on on stage, it's DEFINITELY Nicki Minaj judging by previous fans who have tried their luck – and it happened again at a Bar Mitzvah Nicki performed at.
Nicki had been hired to perform at a young boy called Matt's Bar Mitzvah, and the 13-year-old managed to make Ms Minaj blush with his cheeky response when she asked him how old he was.
[Video] Matt telling @NICKIMINAJ he's "old enough" tonight at his Bar Mitzvah pic.twitter.com/qnETU6KaAH

— Nicki Minaj News (@NickiWorldNews) April 26, 2015
Nicki was asking the crowd their ages and when she reached Matt he replied, "old enough!", to which Nicki totally lost it with laughter at how cheeky he was.
It's not the first time Nicki has been hit on by a fan on stage – one little boy called Donnie TOTALLY lost all chill when he got on stage with Nicki – but he managed to stop crying when she gave him a hug – and he rested his head on her boobs!
We can't wait to see what the next thing will be – possibly a marriage proposal on stage?! Well, they're a bit late – Meek Mill has already out a ring on it!