Nicki Minaj "Happy" On American Idol As She Keeps Coy On A Return
10 May 2013, 16:18 | Updated: 11 May 2013, 09:48
The 'Starships' rapper speaks about heading back to the show following Randy Jackson's departure.
Nicki Minaj has admitted that she is "happy" on American Idol but said a return to the show is "a million dollar question".
The 'Super Bass' singer said that despite all previous reports she "loves" her panel and would do it all over again.
"That's a million-dollar question," she said when asked if she'd be back next year.
"I have to say this all the time, but I want people to know it's genuinely from my heart. I love the people on Idol. I genuinely do. If I had to do this all over again, I would have done 'Idol.' Because it's fun, it's laughs."
The 'Pound The Alarm' singer also said that it was disappointing that people continue to focus on the negative elements of the show – such as the fighting between herself and Mariah Carey.
"It's kind of sad that what people read all the time is only when something is negative," she said. "But they don't realize that we built a family. I feel happy here and I have to thank them for giving me this chance."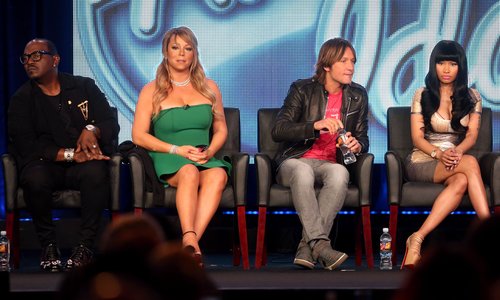 She added: "They could have picked anyone in the world. And they picked me. So that's all I'll say about that."
Nicki's comments came just hours before long-standing judge on the series Randy Jackson announced his departure after 12 years.
Meanwhile, Nicki is among the latest named recently added to the performers line-up of the Billboard Music Awards 2013.