WATCH: Nick Jonas Looks HELLA Buff In Shower Towel Scene From His Album Documentary!
2 June 2016, 10:58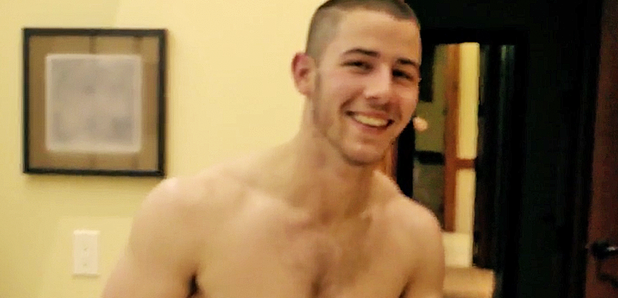 This guy has, like, muscles on his muscles.
We all know Nick Jonas takes his fitness and health pretty damned seriously, but it looks like he's been stepping up his workouts yet again judging by this new video clip.
The 'Jealous' star is letting fans see the recording process of his new album 'Last Year Was Complicated' in a series of documentary films released across Tidal, and a new teaser clip gives away what's sure to be a fan-favourite scene!
The scene is filmed by Nick's mate Jonathan Tucker, who co-stars with him in fighting drama Kingdom, and sees him filming Nick in the bathroom wearing JUST a skimpy towel. Oh… my… god!
Episode one of the documentary is out on @TIDALHiFi! #LYWC https://t.co/zSKRrG7f75https://t.co/iz8JmYdBu1

— Nick Jonas (@nickjonas) June 1, 2016
And despite Nick's tongue-in-cheek protests about being filmed, he definitely doesn't seem shy about showing off those muscles, does he!
Remember - Nick in all his hunky glory will be hitting the stage Saturday 11th June at Wembley Stadium to showcase some of his new album at Capital's Summertime Ball 2016 with Vodafone.
PLUS... a few days ago Nick revealed behind-the-scenes on his EPIC music video for 'Chainsaw'. Hit play on the feature below:
You may also like...