Nick Jonas Is "Honoured" To Play A (Super Hot) Gay Character On TV's Scream Queens
23 September 2015, 10:31 | Updated: 23 September 2015, 10:35
SCREAM QUEENS | Scream Kings
01:36
PLUS! Get ready for the sexiest Nick Jonas GIF you've EVER seen. We did warn you...
Scream Queens made its long-awaited premiere this week and while everyone's talking about who the killer could be on the new slasher TV series... we're more interested in just how DREAMY Nick Jonas was throughout the show!
Not only that, but it was revealed during the premiere that Nick's jock-type character Boone is actually gay, and Nick's opened up about how much he's enjoyed playing his second gay TV character.
"I've been so honoured to get to play some really strong gay characters," Nick told ET ahead of last night's premiere. "Whatever I can do ffor the community is just a blessing to me.
"For Boone in particular and this show as a whole, everything is not as it seems," the singer teased. "So I would say get ready to get surprised by a lot of different things.
In his heart of hearts, that may be who he is, but we'll have to find out as we watch."
Nick's also promised a LOT of shirtless scenes to come on Scream Queens, so all you Jonas lovers out there will be more than satisfied!
"It's a lot, it's a lot of shirtlessness," he added.
Speaking of Nick Jonas shirtless, check out possibly the greatest GIF ever made from last night's opening episode...
Errr... Nick, are you talking about yourself here?
And finally (*SPOILERS) here's Nick's character Boone cosying up to his man from the first episode of Scream Queens!
The 'Jealous' star is a recurring cast member on the new series from American Horror Story creator Ryan Murphy, and if you can't wait to see Nick in the next episode then hit play on the video below to watch him talking about Boone (while wearing only a dressing gown... swoon).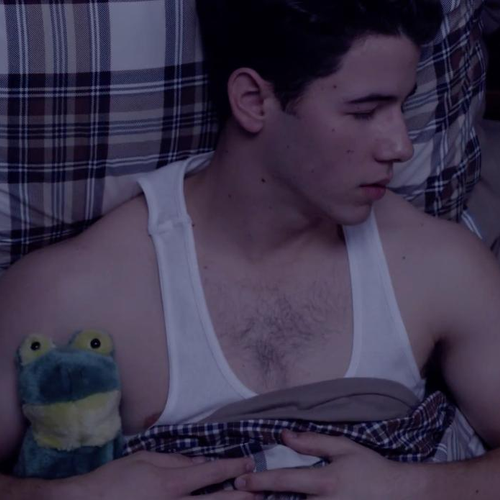 Ariana Grande ALSO stars in the new slasher themed TV show as a recurring character, but recent teasers suggest her and Nick's characters are unlukely to make it through to the end of the season! #SadFace
The new slasher series' creator Ryan Murphy has teased more about how the show will work going forward, and reveals that only FOUR of the show's ensemble cast will make it through to future seasons.
Considering Ariana is only listed for a few episodes, and is a supporting character, don't expect the star to meet a nice fate once the American Horror Story creator's show arrives! Eeek!
"It's similar to American Horror Story in that it's anthological but different in that at the end of the first season there will only be four characters out of 25 left," Ryan teased to The Hollywood Reporter about his new show. "And those four in season two will go on to a new horror genre, that's the format of the show."
WATCH: Justin Bieber & Ariana Grande Lip Syncing 'I Really Like You' Is Giving Us LIFE
You may also like...