Miley Cyrus Strips Naked For 'Wrecking Ball' Music Video
9 September 2013, 17:50 | Updated: 9 September 2013, 17:57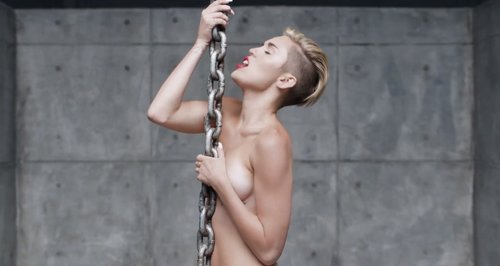 Watch the star's latest promo and follow up to 'We Can't Stop' right now on Capital.
Miley Cyrus has released the official music video for her new song 'Wrecking Ball'.
The promo sees the singer strip naked as she swings from a giant wrecking ball and also uses a sledgehammer to tear up her surroundings.
The video also features several close-up shots of the singer looking emotional as she delivers the lyrics of the song.
She also covers up in a revealing white vest, bikini bottoms and brown boots for other moments of the video.
Watch Miley Cyrus' new video for 'Wrecking Ball' below:
The track is the latest to be taken from her forthcoming new album 'Bangerz' and follows on from 'We Can't Stop'.
Mily will release new album 'Bangerz' on 7th October.