This Week's MOST-ASKED Question: "Miley, What's Good?"
5 September 2015, 06:00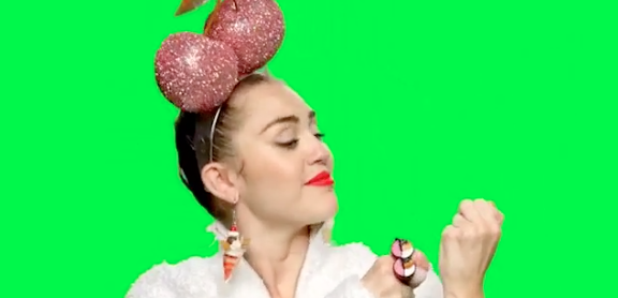 After an eventful evening hosting the MTV VMAs 2015, the most asked question this week has to be a question first asked by Nicki Minaj on stage... 'Miley, what's good?'.
After doing a stellar job hosting the MTV Video Music Awards 2015, the usually highly opinionated Miley Cyrus was thrown off her game after Nicki Minaj confronted her live on stage.
Straight off from winning Best Hip Hop Video and giving her speech, a riled up Nicki shouted over to Miley from across the stage, asking the singer 'what's good?' after apparently Miley had had a 'few things to say' about the rapper in the press.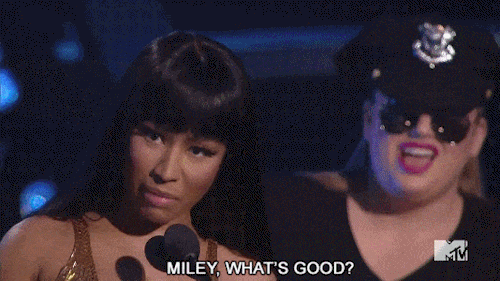 Rebel Wilson's face perfectly sums up what everyone looking was feeling, as Miley was left COMPLETELY speechless before deflecting and commenting "we all do interviews"!
Since this moment last weekend the Internet has been ablaze with comments asking Miley exactly that... 'what's good?'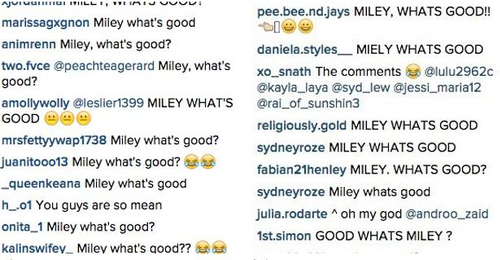 Some people have been as quick off the mark to make their own merch!
Y'all so fast ! #MileyWhatsGood pic.twitter.com/3kMhrRaXjA

— potato head (@TheFATZac) August 31, 2015
Following with claims #MileyWhatsGood is the new popular #DontPanic phenomenon
#mileywhatsgood is the new #dontpanic

— @MADBLACKTHOT (@MADBLACKTHOT) August 31, 2015
And a few individuals have gone as far as to tattoo the phrase onto their bodies...
This can't help but leave us feeling a little sorry for Miley Cyrus, who has yet to reply to comments via Instagram and Twitter.
However, #Smilers have been quick to defend their queen online!
so all the good Miley has done is somehow invalidated because she wrongfully criticized Nicki once and wore fake dreads. cool

— bella vita (@drugproblem) August 31, 2015
We imagine if she did reply, it'd probably look something like this.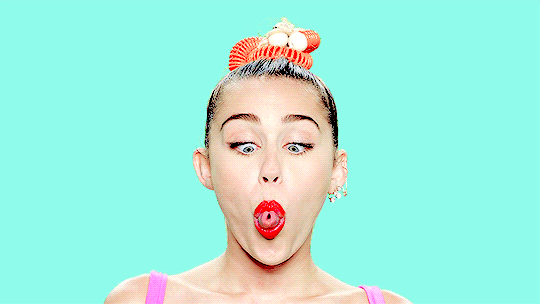 You May Also Like...