Miley Cyrus Performs 'We Can't Stop' Acapella With Jimmy Fallon And The Roots – Video
9 October 2013, 14:34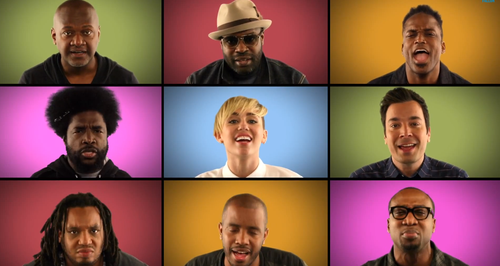 The US star delivers a unique and memorable version of her smash hit single.
Miley Cyrus joined forces with Jimmy Fallon and The Roots this week to perform an acapella version of her hit song 'We Can't Stop'.
The singer was a guest on the chat show this week and took part in a Brady Bunch-style rendition of the track.
This week also saw Miley release her new studio album 'Bangerz'.
Check out the video of the acapella version of 'We Can't Stop' with The Roots below:
Meanwhile, the star has been speaking about her team-up with Britney Spears on the record and was full of praise for the 'Scream & Shout' singer.
"She's like an icon in that way and so I wanted to bring her back to that," she told Hunger magazine.