Miley Cyrus Brings Her Naughty Side - And Her Sister - To The Summertime Ball!
23 June 2014, 11:24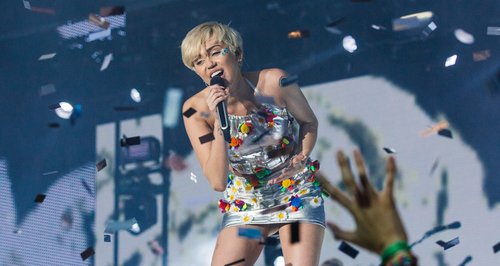 The tongue was out, the dancers were CRAZY... and 80,000 went mad for Miley at the Summertime Ball!
This was arguably the Summertime Ball performance EVERYONE was waiting for at Wembley Stadium today... as we ALL know no one can predict what the multi-talented twerkin' sensation will do next!
Miley brought her sister out to open her SENSATIONAL set at the Summertime Ball - and Mini-Cyrus donned her finest leopard print unitard as she danced along with her sister in front of 80,000.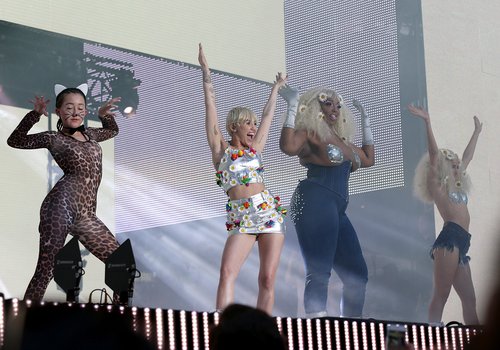 Miley Cyrus did NOT disappoint when she hit that #CapitalSTB stage rocking a tinfoil top and skirt adorned with colourful pom pons - well you weren't expecting her to come out in jeans were you? - and played EVERY hit her #Smilers were after... from 'We Can't Stop' to her old-school smash 'Party In The USA'.
The crowd is loving themselves some Miley Cyrus #CapitalSTB pic.twitter.com/8NCOxvcuBM

— Mileys Bangerz Tour (@CyrusIsMyVirus) June 21, 2014
SMS, Love Money Party, 4x4 & Wrecking Ball #CapitalSTB

— bangerz. (@CyrusAllTheWay) June 21, 2014
Miley Cyrus's performing Wrecking Ball right now! #CapitalSTB

— Miley Cyrus News™ (@BangerzWordTour) June 21, 2014
Miley had her usual array of colourful backing dancers and band members supporting her all the way, and it was QUITE a moment when we saw Ms. Cyrus striding down that Wembley stage catwalk!
Miley Cyrus spitting on her fans! Disgusting. I wonder what she would do if someone spat on her #CapitalSTB

— Michelle Mone OBE (@MichelleMone) June 21, 2014
Throughout her set Miley had projections of herself and her sister dancing - talk about a family affair! It was a treat for all the senses as Miley was joined by a giant turnip/radish on stage and unleashed an army of giant rubber ducks into the audience.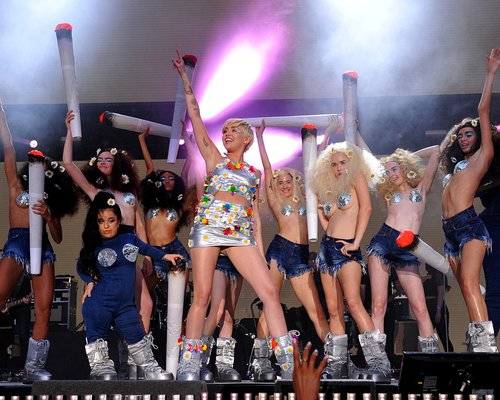 We're not sure we can describe exactly what happened on that stage in words, but we know that Miley knows how to put on one HECK of a show - from soulful moments to nipple tassels and dancing dwarves, there is something for everyone!
Check out Miley Cyrus' FULL #CapitalSTB setlist below:
'Wrecking Ball'
'Bangerz'
'Party In The USA'
'Love, Money, Party'
'Adore You'
'23'
'We Can't Stop'