Miley Cyrus Talks About Sinead O'Connor Feud: "She's An Incredible Artist"
8 October 2013, 12:25 | Updated: 8 October 2013, 12:27
The 'We Can't Stop' singer spoke about the recent exchange of words between the pair.
Miley Cyrus has opened up about her recent online feud with Sinead O'Connor and said she is a big fan of the Irish star.
The pair came to blows after the 'We Can't Stop' star said she based her 'Wrecking Ball' video on the 46 year-old's 'Nothing Compares 2 U' promo.
This led Sinead to write a series of letters to Miley urging her to be careful in the music industry.
The US singer then made comparative remarks concerning troubled actress Amanda Bynes.
The 'Wrecking Ball' star was questioned over the war of words during her chat with Matt Lauer on The Today Show.
"My thoughts, if you want to know my thoughts, I think she's an incredible artist," she said. "I think she's an awesome songwriter and I was really inspired by her for my 'Wrecking Ball' video, which was what started the whole thing."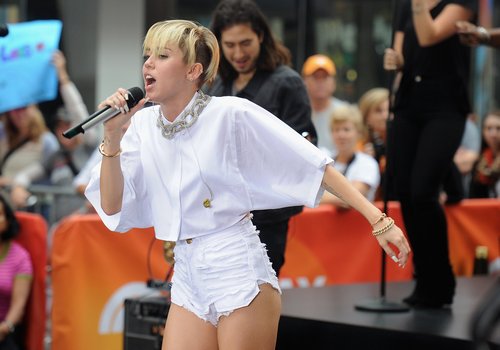 Miley continued: " I don't know how someone can start a fight with somebody that's saying, 'Hey I really respect you and I really love what you did.' 'You know what? You suck!' And that was kind of crazy.
"But, like I said, I'm a big fan of hers and so it doesn't really matter... It's all good. You can write as many open letters as you want. That's really what blogging is. I get open letters every day; it's nothing too new for me."
Sinead has also since said that, as far as she's concerned, the feud is "over".
Miley Cyrus released her new album 'Bangerz' this week and hosted Saturday Night Live this past weekend.