Miley Cyrus Goes Topless For Rolling Stone Cover Shoot And Reveals Kanye West Praise
24 September 2013, 14:41
The 'We Can't Stop' singer talks about the rapper coming to visit her before her MTV VMAs performance.
Miley Cyrus has revealed that Kanye West came into her dressing room before the MTV Video Music Awards 2013 and told her that she was one of the only artists in the world that he "believed" in.
The 'Wrecking Ball' singer was rumoured to have headed into the studio with the rapper after the show, something she confirmed in a new interview with Rolling Stone magazine.
Speaking to the publication, she revealed Kanye's visit came after he watched her rehearsals on the day.
"He came in and goes, 'There are not a lot of artists I believe in more than you right now,'" she recalled. "The whole room went quiet. I was like, 'Yo – can you say that again?!'" She laughs.
"I just kept repeating that over and over in my mind, and it made me not nervous."
Following their studio hook-up, the rapper also sent a text to the singer revealing he couldn't stop thinking about her performance.
Check out Miley's cover shoot with the magazine below: (Picture: Rolling Stone)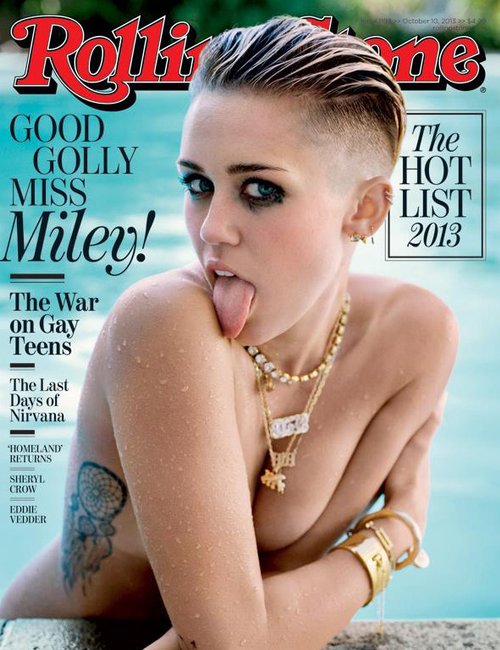 "He said, 'I still can't quit thinking about your performance,'" she said. "Kanye is the s***. I kind of have a good relationship with him now. It's good to have someone you can call and be like, 'Yo, do you think I should wear this?' 'Do you think I should go in the studio with this guy?' 'Do you think this is cool?' That's what homies are supposed to do."
Miley caused controversy with her performance after she was seen making rude gestures with a foam finger and grinding up against 'Blurred Lines' man Robin Thicke.
Meanwhile, the singer is currently preparing for the release of her new album 'Bangerz' - which will feature a collaboration with Britney Spears.