Miley Cyrus Plans To Tone Down Controversial Performances When She's 40
8 October 2013, 08:57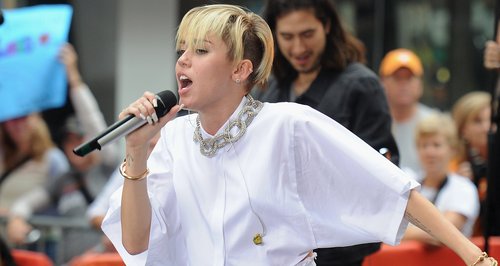 The 'Wrecking Ball' singer says she will stop being so "sexual" on stage when she reaches middle-age.
Miley Cyrus says she will tone down her controversial antics and performances around "40" while joking that that is around the time things go "a little less sexual".
The 'We Can't Stop' singer stopped by The Today Show to perform live on stage to celebrate the launch of her new album 'Bangerz', and was quizzed about her recent music video for 'Wrecking Ball' and her VMAs 2013 performance.
"I heard when you turn 40 things start to go a little less sexual, so probably around that time," Miley revealed on The Today Show this week, before joking: "I heard that's when people don't have sex any more so i guess maybe around then!"
The 'Wrecking Ball' singer also claimed she has no intention to offend people with her on-stage antics, and is feeling really happy about where her life and career is right now.
"I'm the happiest I've ever been in my whole life," she explained. "I don't ever really plan to offend people.
"What I'm doing is for my fans, because they're all really young and they understand what I'm doing," Miley added. "For me the most important thing is being a really good person."
Miley Cyrus launched her new album 'Bangerz' yesterday (7th October).