Miley Cyrus' Keeping It In The Family... It's Time To Meet Her Sister Noah
17 June 2014, 11:32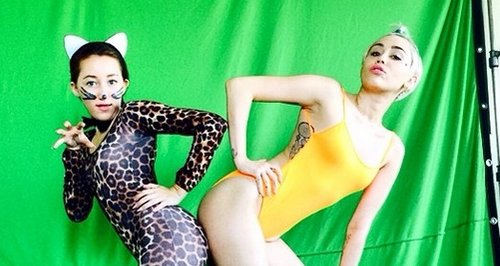 Find out what Miley's working on with her lil sister... and see the adorable new pictures.
It's all about the next generation… and Miley Cyrus has been getting her little sister in on the superstar action.
The 'Wrecking Ball' star has been sharing some seriously adorable snaps of her and 14 year-old Noah posing together for a super-secret photoshoot.
While there's no surprises about Miley's outfit for the shoot (it's one of her trademark stage swimsuits!), Noah's dressed up in an animal print leotard with cute little cat ears and whiskers!
Would Miley be getting ready to feature Noah in one of her next 'Bangerz' music videos? Or is this a "passing the baton" moment as Noah looks to whatever lives ahead for her future career?
Either way, just enjoy seeing Miley and her lil sis messing around together and being adorable. It's ALL about the Cyrus sisters now!
And remember, Miley's hitting that Summertime Ball stage in just a few days (21st June)… will she give Noah a shout-out to the #CapitalSTB crowd?