Miley Cyrus Is Back In The Studio With Mike Will – Is She Working On Her New Album?!
13 April 2015, 16:56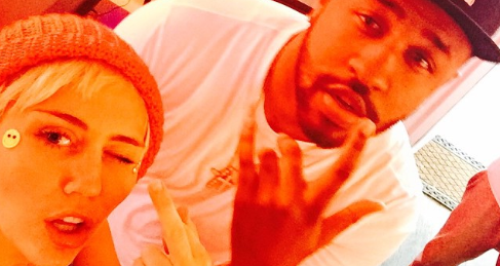 The 'Bangerz' star has often collaborated with Mike Will Made It in the past – and she shared some snaps of the two of them in the studio again.
It feels like forever since Miley Cyrus released her brilliantly 'Miley-fied' album 'Bangerz', but the star is in the studio with producer Mike Will Made It once again – is there a new album on the way?
Rather than partying at Coachella like the rest of the 20-somethings in Hollywood, Miley chose to head to the studio instead – and posted up a bunch of photos to keep fans up to date.
Miley has famously worked with Mike Will on several of her previous tracks from 'Bangerz', and the pair were clearly having a LOT of fun together.
Miley's been laying low on the musical front in the past few months – has she been cooking up some fresh 'Bangerz' for her #Smilers? We'll just have to wait and see!