WATCH: Miley Cyrus Floats Through Space As She Teases Hosting The 2015 MTV VMA Awards
7 August 2015, 10:37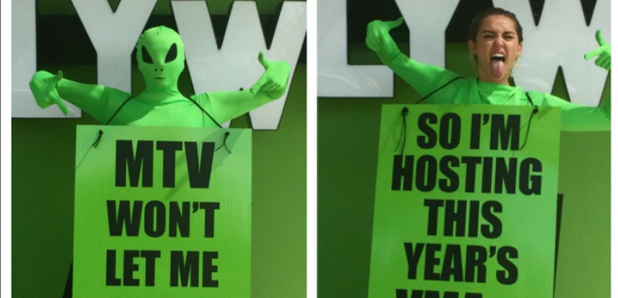 Miley Cyrus' MTV VMA promos are getting weirder and weirder – from topless shots to riding a giant cat. We have NO idea what to expect next…
Anyone that saw her 2013 VMAs performance knows that Miley was never going to announce the fact she's hosting the show in a low-key manner… Miley is no stranger to the MTV VMA Awards stage – but instead of twerking on Robin Thicke, this year the 'Bangerz' star will be hosting the show!
Miley took to Instagram to share the news, in TYPICAL Miley Cyrus style – by dressing up as a giant green alien wearing a sandwich board with the slogan "MTV won't let me perform' before whipping off her mask and revealing 'So I'm hosting this year's VMAs'.
The VMAs will take place on 30thAugust, with Beyonce, Taylor Swift and Ed Sheeran leading the nominations – but the real question is whether anyone can top Miley's infamous 2013 performance?!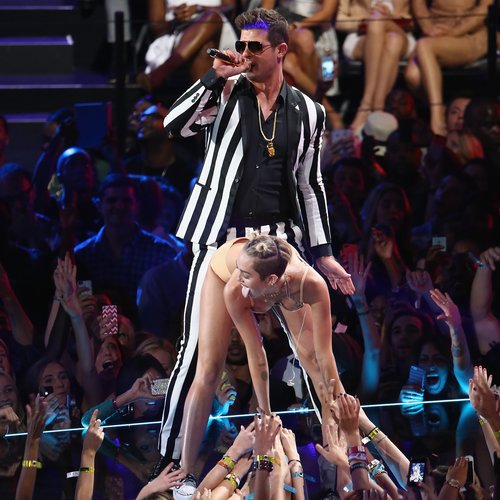 Since the announcement was made, Miley has posted a series of new promo videos for her hosting gig at the awards - and they're just as rude and crude and totally bizarre as we would expect from the fearless Miss Cyrus!
Miley's next offering showed her riding around on a giant white fluffy cat. Because we ALL do that from time to time, right?
Next, she whipped most of her clothes off save for an odd neon pink pair of knickers with shoulder straps and a pair of green pasties covering her modesty.
Miley is the only MTV VMA host ever (probably) who can literally levitate - she donned a space suit and said goodbye to gravity for this promo:
Miley then fully got her butt out on a treadmill in heels - we're pretty sure that most gyms don't encourage this behaviour!
Ms Cyrus' first experience of the VMAs was way back in 2008 when she was just 15 when she was up for Best New Artist against Katy Perry and Taylor Swift, and she also made history last year when she brought a homeless friend as her date and let him accept her award for her 'Wrecking Ball' video.
One thing's for sure – with Miley running the show, it's going to be a night to remember!