Miley Cyrus' Dad Says Singer Will "Always Be My Little Girl" Following MTV VMAs 2013
28 August 2013, 10:03 | Updated: 29 August 2013, 11:14
The father of the 'We Can't Stop' singer speaks about his daughter's controversial performance.
Miley Cyrus' father Billy Ray has defended his daughter following her controversial MTV Video Music Awards 2013 and said he will always be there for her.
The 'Party In The USA' singer wore a skin-coloured latex outfit and was seen grinding up against 36 year-old Robin Thicke and making raunchy gestures with a foam finger during her appearance at the event in Brooklyn this weekend.
"Of course I'll always be here for Miley," he told Entertainment Tonight. "Can't wait see her when she gets home."
He continued: "She's still my little girl and I'm still her dad regardless how this circus we call show business plays out. I love her unconditionally and that will never change."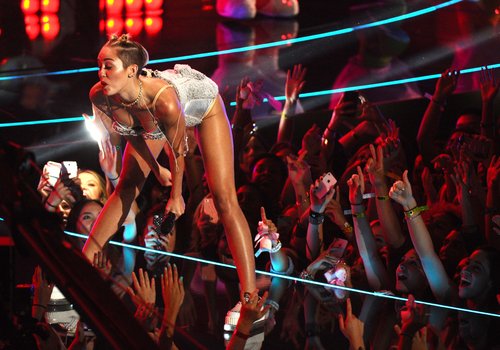 It has also been revealed that Billy Ray cancelled a planned interview with Piers Morgan following the show at the last minute.
E Online reports how the British journalist and chat show host told viewers on his show, "Billy Ray was supposed to be on the show tonight to explain his daughter's behaviour, but..."
Justin Timberlake has also now come out in defence of Miley insisting there has been a history of controversy at the VMAs.
He also said Miley was simply an artist looking to show she has now grown up away form her child-star persona.