Miley Cyrus Performs Duet With Madonna For Unplugged TV Special
29 January 2014, 11:56 | Updated: 27 March 2017, 16:31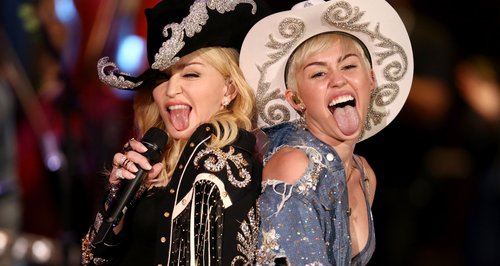 The 'Bangerz' singer taught Madonna her trademark pose for a snap from the TV concert.
Miley Cyrus and Madonna teamed up to perform together for the 'Wrecking Ball' singer's Unplugged special, and shared a snap of themselves on stage to celebrate the moment.
US star Miley filmed her MTV special on Tuesday evening (28th January) and was joined on stage by 'Give Me All Your Lovin' singer Madonna, who was dressed up as a cowboy for the occasion.
"Don't ever Tell us We Can't STOP! #revolutionoflove," Madonna posted on Instagram, referring to both her song 'Don't' Tell Me' and Miley's' 'We Can't Stop'.
Miley has worked with a number of big-name collaborators in recent months including will.i.am and Britney Spears, as well as performing with Madonna live this week.
Miley Cyrus is set to bring her 'Bangerz' world tour over to the UK from May this year.
[[ This video has been removed ]]